Do I Need RV Insurance in Ontario?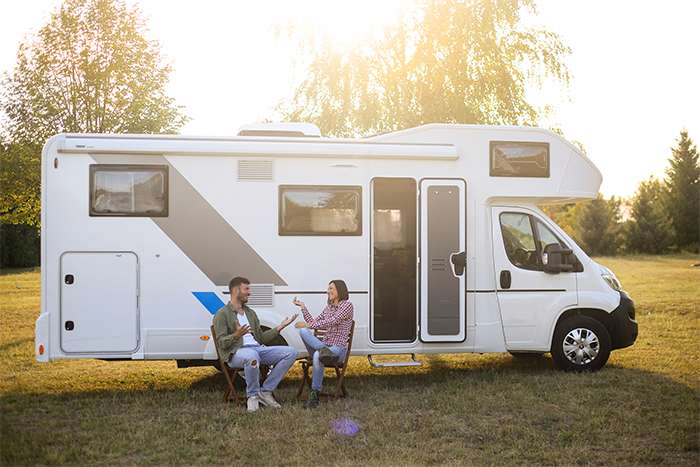 A trip in your RV is a great way to enjoy the summer and there are many kinds to choose from. Having so much choice when buying an RV can make purchasing the right insurance confusing. Most RVs are insurable and some must be insured; the type of insurance depends on what RV you have.
Types of RVs
Different RVs need different types of insurance.
Motorhomes
Self-propelled RVs, or motorhomes, are motorized and can be driven to your destination. They are divided into three classes and must have their own vehicle insurance.
Class A motorhomes are the largest RVs. They have the most room, storage space, and features and are the closest to a home away from home. Some people even use them as their primary residence.
Class C motorhomes are medium-sized and have a sleeping area over the cab.
Class B motorhomes resemble a van and are about the same size.
Travel trailers
RVs that are not self-propelled include travel trailers, pop-up tent trailers, fifth-wheel trailers and truck campers. Only liability is automatically extended from your car/truck insurance and only while attached to the vehicle and being towed.
If you have comprehensive or collision coverage on your car insurance policy, it does not extend to your trailer. You will have to purchase that separately.
What are the minimum legal requirements for insuring your motorhome?
If you own a class A, B, or C motorhome in Ontario the legal requirements for insuring it are the same as for your car. You must have:
Third-party liability insurance
Direct compensation property damage coverage for reimbursement through your insurer for damage caused by an insured motorist
Accident benefits coverage for medical bills, funeral expenses, and loss of income
Uninsured automobile coverage to cover you in case of an accident caused by an uninsured driver or hit-and-run.
What is motorhome insurance?
Motorhome insurance is a combination of the benefits of car and home insurance. It covers damage to the outside and inside of your motorhome from many risks including accidents, theft, and damage.
Like when insuring your car, you can choose optional insurance that covers physical damage. This can include:
Comprehensive coverage, which covers vandalism, theft, fire, lightning, falling objects, explosion, and hitting an animal
Collision coverage, which helps pay for repairing or replacing your motorhome if it is in a collision with an object, vehicle, or the ground
Specified perils coverage, which includes a wide range of risks specified in the policy
All perils coverage, which combines comprehensive and collision coverage
You can also add other types of coverage that are important to have for your motorhome such as:
Contents insurance, which covers the property inside your motorhome if it is damaged
Alternative transportation coverage in case your motorhome needs to be repaired or replaced
Roadside assistance coverage in case your motorhome breaks down
Emergency vacation expense coverage so you can get home or continue your vacation if your motorhome is damaged
What is travel trailer insurance?
You should have insurance for your travel trailer because your vehicle insurance will not adequately cover it. RVs that do not have a motor can be covered by travel trailer insurance which can include many of the same benefits as motorhome insurance. It can include:
Contents
Collision
Damage
Bodily injury
Water damage
Debris damage
Pet injury
Emergency vacation expenses
Food replacement
Extended appliance warranty
Emergency roadside assistance
Although not legally required in Ontario, travel trailer insurance is affordable, has many benefits like liability coverage, and is a good idea if you would not be able to afford to repair or replace your trailer.
Make sure you have the right RV insurance
Before you go on vacation with your RV, you need to make sure it is properly insured. In addition to having the legally required coverage for your motorhome, you should also have additional coverage for your travel trailer or motorhome so you are covered if something goes wrong.