Does My Home Insurance Cover Tornadoes?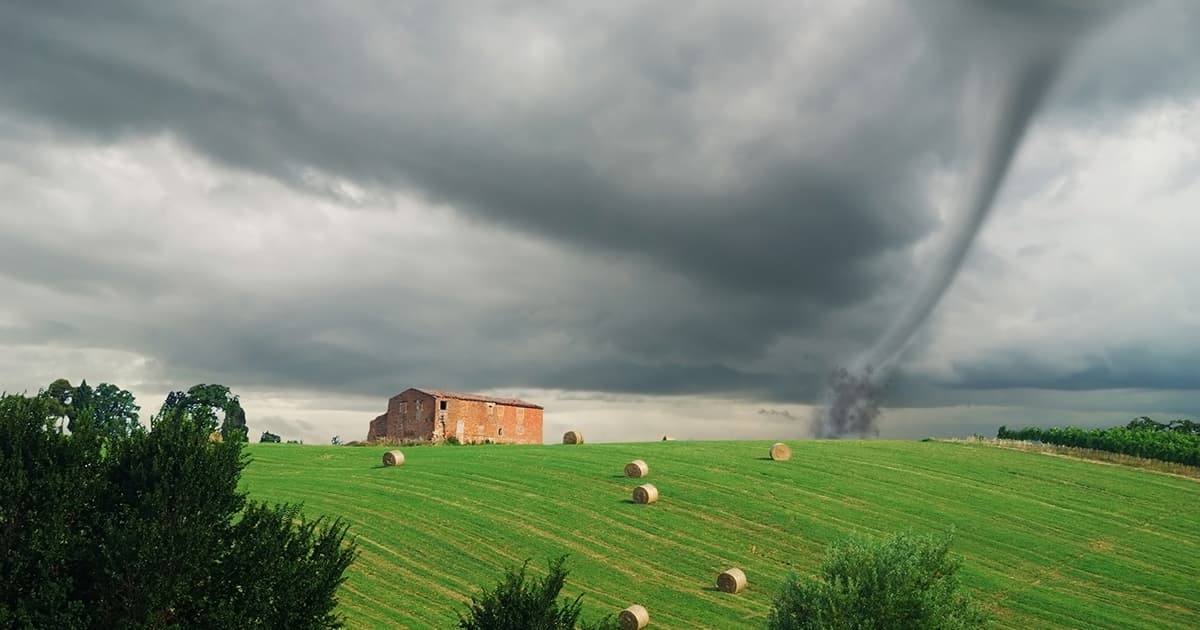 A tornado touches down and hits your house. Would the damage be covered by your home insurance?
Home insurance policies generally cover damage that results from a tornado or high winds.
Much like the U.S., Canada has tornado alleys, which are located in southern Manitoba and Alberta and between Windsor and Barrie in southern Ontario. Though rare, Canada does experience tornadoes that are EF4 on the Fujita scale, which maxes out at EF5.
How does home insurance cover tornadoes?
If your home insurance policy covers wind or windstorm damage, it will cover a tornado. If your home is damaged by a tornado, your house, other structures, and belongings will be covered. Tornado damage that is typically covered includes wind, tree, and rain damage and may cover mold damage but not flooding.
Dwelling coverage
If your house is damaged by a tornado, dwelling coverage will kick in. Dwelling insurance covers damage to the physical structure of your home and other structures on your property, like garages and decks. Detached structures like fences and sheds are also covered by your home insurance policy.
Your dwelling insurance limit will be based on the cost of rebuilding your home, not its real estate value if you sold it.
Your Western home insurance expert will answer any questions you may have about how home insurance covers tornadoes.
Personal property
The personal property coverage included with your home insurance will pay for repairing or replacing your damaged belongings. This includes such items as furniture, electronics, and clothing, among others.
Be sure to check the coverage limit because personal property coverage is typically set at a percentage of the dwelling coverage, for example, 50%. So, if your home is insured for $300,000, your personal property coverage limit would be $150.000.
Do a home inventory to determine how much personal property coverage you need. Make a list of everything you would need to replace if your home were damaged and add up the total cost.
Additional living expenses
If your home is damaged by a tornado and you need to move out, the additional living expenses coverage included with your home insurance policy will cover the extra cost. Also called loss of use coverage, additional living expenses coverage pays for accommodations, meals, pet boarding and other expenses while your home is being repaired.
Tornado safety tips
Being prepared is essential for tornado safety.
Be informed about storms in your area.
Signs of a tornado include a dark, greenish sky, large hail with little rain, a cloud rotation with a whistling or rumbling sound, a cloud of debris, high winds, thunder, and lightning.
Have an emergency kit that includes enough water, food, prescription medications, clothing, and cash for your family for 3 days. Also include a first aid kit, flashlight, batteries, a radio, and blankets.
Have an emergency kit for your pets that includes food in waterproof containers, water, water dishes, medication, leases, ID tags, a pet first aid kit, bedding, pet waste bags, and documents like microchip information and registration.
Make sure your documents are safe by storing them in a waterproof container. Include legal documents, passports, insurance policies, marriage licenses and birth certificates and financial documents.
If your home was damaged by a tornado, stay safe and file your insurance claim right away.
Stay away from downed power lines.
Check your home for signs of structural damage and do not enter it until local authorities have told you it is safe to do so.
If you think your home is damaged, turn off the electricity and natural gas.
Wear appropriate footwear and a long-sleeved shirt and watch out for broken glass, exposed nails, and debris.
Refer to your home inventory to determine which items need to be replaced.
Take photos and videos of damage to the inside and outside of your home.
Do not begin non-emergency repairs until an insurance adjuster has seen your home.
If your home is unlivable, keep receipts for expenses like hotels and meals.