Drumheller brokers share career highlights, never stop learning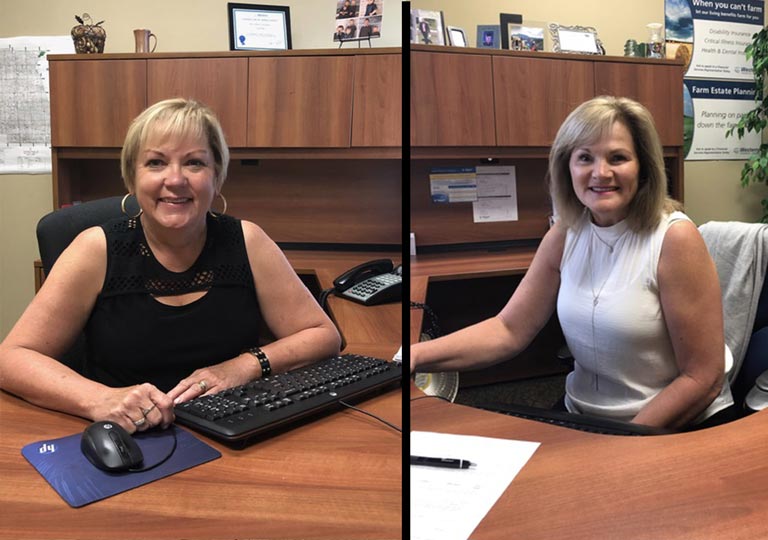 From left to right are Susan Pollom and Darlene Wilson
Oct. 16, 2019. We're celebrating two insurance careers — each surpassing four decades — two friends, in fact, from our Western Financial Group Drumheller branch who now serve three generations of customers.
Darlene Wilson and Susan Pollom, farm insurance experts, started with Page Agencies — acquired by Western in 2009 — in 1976 and 1977 respectively, both obtaining their insurance licenses soon after.
"Shorthand, pink slips on a typewriter, that's exactly right," Wilson said, noting they started by providing people the right insurance solutions using technology that in those days, was thoroughly modern.
Having served Drumheller for over 40 years, she said the insurance industry, and the world, is always shifting. One aspect, however, remains steadfast — providing excellent customer service.
"They rely on you, so you work hard to do your very best for them," Wilson said.
For many of the farm policies she wrote 30 to 35 years ago, those original customers are now elderly.
"They're maturing, stepping down and their children are stepping in," Wilson said. "We even have farm accounts where I'm seeing their grandchildren involved. We're talking three generations."
Alongside assisting their clients, giving back is vital as well. The Drumheller brokerage has invested over $38,000 back into the community through our Western Communities Foundation (WCF) charitable arm.
"If there are events in which we can attend, we certainly do our best to do that," Wilson said.
Prior to working together, Pollom attended school with Wilson and raised their families at the same time. Knowing that a broker's policy knowledge is critical, Pollom said she's always learning.
"You must really keep on top of it because insurance is always changing," she said, adding Western's Drumheller team has always ensured they're looking after their clients' requirements.
Pollom said insurance is necessary and that brokers assist by helping people understand their purchase.
"We take pride in knowing our products and explaining that to our customers," she said.
Roxanne Clark, Drumheller's branch manager, explained the key role the two play in the brokerage.
"I'm very proud of Darlene and Susan," she said. "It's not just the relationships they've built with customers, it's having them as leaders and mentors for new brokers entering the industry."
Clark said their expertise has been a tremendous asset to the branch and Drumheller.
"Ensuring we're involved in our community is something we strive for on our whole team," she said. "We live here, we work here and we care about it."
The Badlands Youth Centre received $7,500 from our Drumheller brokerage — through a grant from Intact Insurance that builds better communities. Clark applied for these funds.