EGM reflects upon military bond with MilSpouse Convention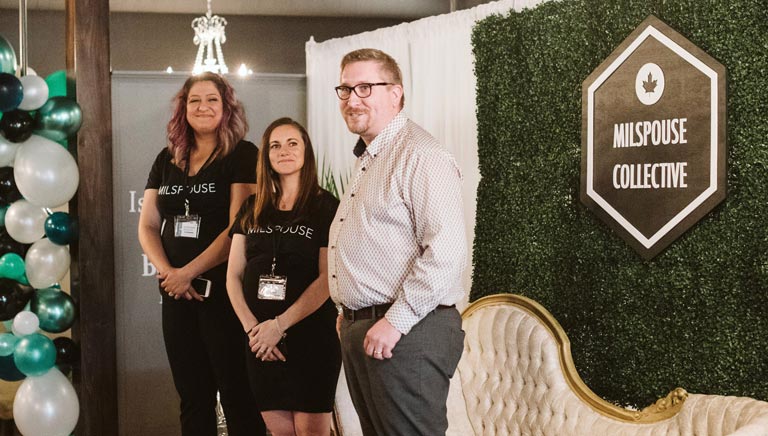 An unshakable connection with Canadian Forces Base Petawawa — a relationship spanning 75 years — infuses further emotional significance into Remembrance Day for our EGM Insurance team in Ontario.
"It touches everyone and we've all had either friends or family who serve our Canadian Armed Forces," Dan Laverdure, branch manager for our EGM, Johnston & Mackie and MC Carroll Brokers locations, said.
Amidst their being immersed in the community — supporting military spouses through job opportunities — our brokers have served Garrison Petawawa with group home and auto policies for over 25 years.
Remembrance Day is an especially important event for our team. At different times of the year, some of our peoples' spouses are deployed to fight and protect Canada overseas.
"What makes me proud is that my team understands the military and the risks they take," Laverdure said. "They're so passionate about supporting their community."
We're pleased that our EGM team will, once again, represent their bond with the Canadian Armed Forces and those who fought and still fight this November 11 at ceremonies in Renfrew County.
"It's a time to reflect on not only the service people who have come and gone, but our current military," he said. "Thank you for what you do, for serving our country and for being part of our community."
"Remembrance Day is very important," Laverdure said. "My father-in-law is a former Canadian Armed Forces service member. It does touch home for me."
Each year, now for 13 years, we have been a core sponsor of the regional hospital foundation gala alongside Garrison Petawawa. Funds raised are directed to capital campaigns at the hospital.
As well, Laverdure presented at the first annual MilSpouse Collective this past May. The event highlighted the lives of military spouses whose significant others are on active duty.
"It's the people in our communities who wrap their arms around those who are without their loved ones for long periods of time," he said.
Know that as you wear your poppy with pride and bow your head for a moment of silence this Remembrance Day, your reflection means their service will never be forgotten.