Employee Spotlight on Living our Values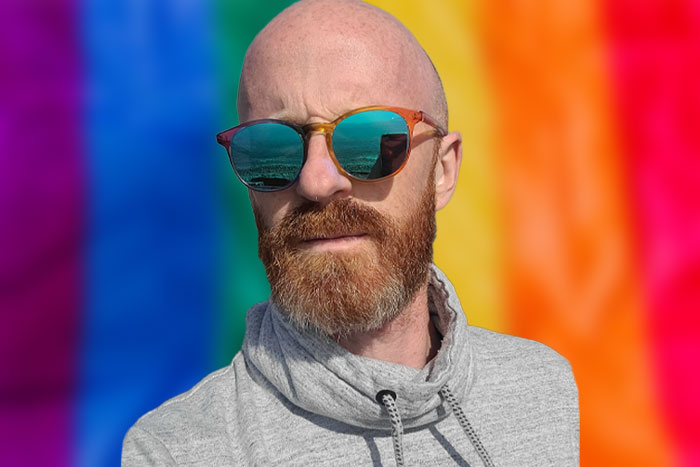 "After a while, you learn to ignore the names people call you and just trust who you are. - Shrek"
Q. What made you join the Pride ERG, and who is part of the group?
Happy Pride month to all my colleagues at Western, across the country!
I joined the Pride ERG as one of the original members. As a member of the LGBTQ2S+ community and a member of the Diversity & Inclusion Council here at Western, I knew I had to be involved in this group to help affect change and bring awareness to our community and to the unconscious biases we all have. Growing up gay in rural Alberta in the 80's had its share of challenges to say the least. Being a part of a shift in thinking is very exciting and rewarding!
We have an amazing group of individuals involved in the ERG:
Myself – Co-Chair
Matt Friesen – Co-Chair
Brian Elworthy – Recording Secretary
Grant Ostir – Executive Sponsor
Avelia Stewart – Diversity & Inclusion Lead
Theresa Rogers – Member
Joni Kim – Member
Jillian Thomson – Member
Xarra Steele – Member
Marley Oldfield - Member
Nikolas Lynam – Member
Jesse Hartley – Member
Amanda Arch (on maternity leave) – Member
Anyone who wishes to join our group is more than welcome. We hold a 1-hour meeting on the 3rd Wednesday of every month where we discuss initiatives that we'd like to see happen, and how we can support each other and our colleagues at Western in our day-to-day lives at work. We also have a thriving Teams chat where members share exciting things and celebrate each other.
Q. What's your favorite thing about working with this group of individuals at Western?
Being relatively new (2 years) to Western and working remotely, I've found that it has been a fantastic way of connecting with colleagues from all over the company, and I have developed friendships and comraderies with individuals I wouldn't have had the opportunity to meet otherwise. Each one of the team (whether they are a member of the LGBTQ2S+ community or an Ally) has an amazing story and I'm so thrilled to connect with each of them.
I've learned so many things because of this group, with new ideas and thoughts brought forward by various individuals. Did you know that we commonly misuse the term acronym? An acronym is a group of letters that form a word, but initialisms do not. LGBTQ2S+ is an initialism, not an acronym.
Q. If you can share one thing that the Pride ERG is working on, OR something that the ERG accomplished that you are most proud of, what would it be?
We are currently working on bringing awareness of a new initialism to the company – SOGIESC (Sexual Orientation, Gender Identity, Gender Expression, Sex Characteristics). This is an inclusive initialism that is newer and most often used by non-governmental organizations, often in the context of international human rights. More to come on this in the months ahead!
Q. What is one of the biggest roadblocks, or the most challenging part of trying to create change in this space?
To me, one of the more challenging parts is creating awareness and challenging thinking about "Why do we need a Pride month?" Looking at Queer history in Canada: Queer History Timeline | Queer Events shows to me exactly why we need Pride.
There's a long quote from Anthony Venn-Brown (Author of A Life of Unlearning – A journey to find the truth) that speaks to me and to this challenge:
"When you hear of Gay Pride, remember, it was not born out of a need to celebrate being gay.

It evolved out of our need as human beings to break free of oppression and to exist without being criminalized, pathologized or persecuted.

Depending on a number of factors, particularly religion, freeing ourselves from gay shame and coming to self-love and acceptance, can not only be an agonizing journey, it can take years.
Tragically some don't make it.

Instead of wondering why there isn't a straight pride, be grateful you have never needed one.

Celebrate with us."
Q. Which of our Guiding Principles do you and the team connect with the most (Truthfulness, Fairness, Value, Loyalty)?
Fairness is the principle we connect with the most. Each of the principles is very important, but Fairness highlights the need for Equality and Equity for every individual, whether they are customers or colleagues.
Nominate a Western team member for living our Values!