Grande Prairie's Western brokerage receives 50-year chamber plaque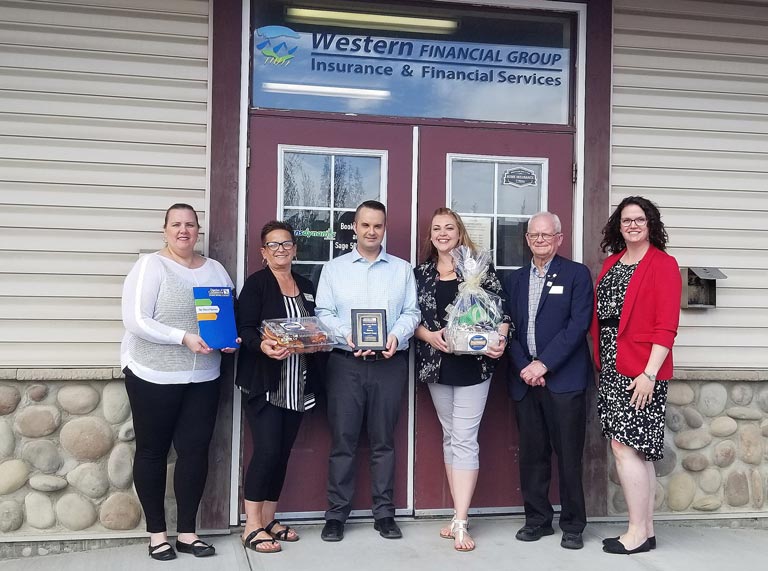 Our Western Financial Groups Grande Prairie team received a plaque for 50 years with the chamber of commerce
We're celebrating our 50th year with the Grande Prairie & District Chamber of Commerce, a huge moment for our Western brokers in the city as we continue to build strong community connections.
Our association with the third largest chamber in Alberta started in 1969 under our former name, Lewis and Wright Agencies, and we haven't looked back — thank you to the chamber for recognizing us.
As brokers, we've set our sights on the future of this relationship with chamber leaders and fellow members. Our Grande Prairie brokers will always represent Western where we live, work and play.
"We have the Western Communities Foundation," Ashley Scott, Western's assistant manager, said. "It's part of our culture that we want to be in the community and the chamber is an avenue to expand that."
The chamber of commerce advocates for small businesses — including for or against government policies — enhances the economic well-being of the entire region and supports communities.
"It's exciting to think what could happen," Tim Gassner, Western's Grande Prairie branch manager, said, adding the team is excited for monthly business socials and the Growing the North conference in 2020.
Scott thanked former colleagues for helping to forge this path. The connection with the chamber is another chance for our Western brokers to further expand our community network.
"They have a lot of members, they're quite strong, which leads to great networking opportunities for us," Gassner said. "Even just some volunteer activities to give back and get involved."