Happy 5th Anniversary Robyn Anderson at Western Financial Group!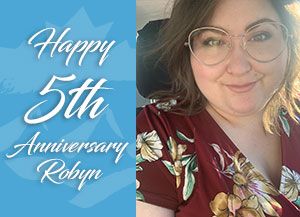 Tell us about your journey here at Western Financial Group
Hi, I'm Robyn Anderson and I have celebrated my 5-year anniversary at Western Financial Group. I work as an Insurance Advisor, Western Business Express.
I started in insurance by accident, purchasing my own home insurance for my first house when I was offered to interview for an open position as an insurance advisor for personal lines insurance in my hometown branch.
What would you like to share?
I have always been customer focused when working in the service industry and Western Financial's core values were a perfect fit for me to be a representative to serve our customers. Insurance has been a challenging and rewarding industry to be a part of.
After two years providing service to our personal lines' customers, I moved into commercial insurance and not long after that I was given the opportunity to join our Western Express Business Team. I have obtained multiple provincial licenses and I provide service to all of Western Canada.
What do you find rewarding about your job?
It's very exciting to help small business reach their goals. They put their trust in us to know what we are doing and to provide great service and quick responses.
I look forward to obtaining my licenses to serve clients in Eastern Canada in the years to come.
What has been your favorite memory with Western Financial in these last 5 years?
My favorite memory while working with Western Financial is getting to work closely with the Western Communities Foundation and putting in time to volunteer.
Being part of the foundation, I was able to participate in our annual Taber Cornfest Parade and I participated in a casino fundraiser for LT Westlake Middle School.