How Farm Insurance Protects Your Way of Life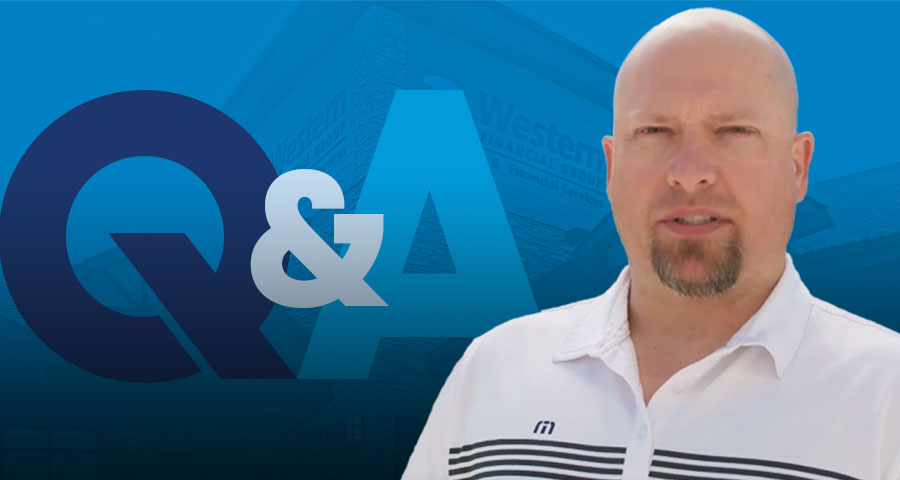 Mark Missal, Director, Sales - Saskatchewan, for Western Financial Group discusses the importance of farm insurance, what it covers, and why it should be reviewed yearly.
Mark is based in Weyburn and has been with Western for about 10 years. He grew up in a small farming community and his dad had a grain farm operation that he helped with for many years.
Q: When we say "farm insurance" what does that mean and what does it include?
A: Farm insurance is a full package policy that will provide coverage for the insured and the insured's family. It can include farms that are selling products for income as well as smaller scale farms or acreages.
The major items it can cover include the dwelling, outbuildings, machinery, bins, produce, livestock, and liability. There are many other options to choose from to cover any additional assets or belongings including ATV's irrigation equipment, loss of use, and contents at the farm.
Q: Should farmers review their coverage annually to make sure that it accurately represents the value of their farm operations and their home?
A: Just like any insurance policy, it should be reviewed every year. So, yes! Farmers are frequently making changes throughout the year and it's a good idea to review your policy at a minimum once a year to get a better perspective on the operations and property that should be insured. There are many factors that could play into costs associated with the assets insured, so making sure it is up to date and relevant to times is crucial.
Q: What is farm building coverage – what does it include?
A: It is coverage for any building that is used for their farm use. Examples could be Quonsets, barns, sheds, pole sheds and shops just to name a few. Basic coverage starts with fire and lightning and can also include wind, hail, collapse due to snow load, and impact by land vehicle to name a few. Replacement cost can be added to the farm building depending on year of construction and condition.
Q: Do farmers need general liability insurance for their operation, and if so, why?
A: Farming operations are now a big business, and as in any type of business there are liability exposures that are present. Yes, there are many liability claims that can affect the livelihood of a farmer. Common claims we see: Trespassing on farmland, livestock damaging neighboring fields, grass fire losses, operation of heavy machinery, including spraying, and there are many more.
Q: Do farmers have protection from fire on their policies?
A: An important coverage that needs to be included in farm insurance policies is Fire Fighting Expense coverage. Some companies include a limit within the policy and other times this needs to be purchased additionally on the policy. These limits need to be reviewed to ensure they are high enough in today's marketplace and are in line with the costs associated with fire departments in their areas.
Q: Why should farmers get crop hail insurance and what does it cover? Is it renewed annually? Does coverage include fire?
A: Hail insurance provides protection for farmers' largest investment, their crops. Weather is unpredictable and farmers input costs are very large.
Hail Insurance is not annually renewed. Hail carriers will release the rates when the time is appropriate and from there clients can obtain coverage from the date the rates are released, or when they can see their crops growth. Coverage starts at noon the next day after purchase. A hail insurance policy offers protection against hail loss to growing crops, shatter loss by hail in swath (limited to crop types) and fire loss (typically) until the date of expiry.
Q: Does farm insurance protect farmers from natural disasters such as floods?
A: Most farm insurance carriers provide some type of flood coverage on dwellings which includes sewer backup. There are, however, exclusions to flood coverage just like with a homeowner's policy. Livestock and machinery can be covered for flood with all risk coverage.
Q: What is dwelling coverage?
A: Dwelling coverage is insurance for the residence of the insured. If it qualifies, a dwelling should be covered on a Guaranteed Replacement cost basis.
Q: Should grain bins be insured?
A: Yes, grain bins should be covered as they are vital to a grain farmer's operations by housing the farmer's output. These structures are quite costly to purchase new and the prices have been steadily increasing annually.
Q: Why is Western ideally suited to help farmers with their insurance?
A: Western is ideally suited to help farmers because we have access to multiple markets so we can almost always find the company that suits our customers' needs.
There is a connection between the farmers and the brokerages in rural areas. They both give back to the community and rely on the community support. A broker in a small community has more understanding of what the farmers do in their busy seasons because they come from the same livelihood. Our people know the customers, the communities, the industry and always make sure to have the customers' best interests in mind.
Many of our insurance experts at Western Financial Group have farmed, are from farming families, or have family in the industry. Our insurance experts understand that farm insurance is unique to protect your way of life.