How Western is Making Work More Flexible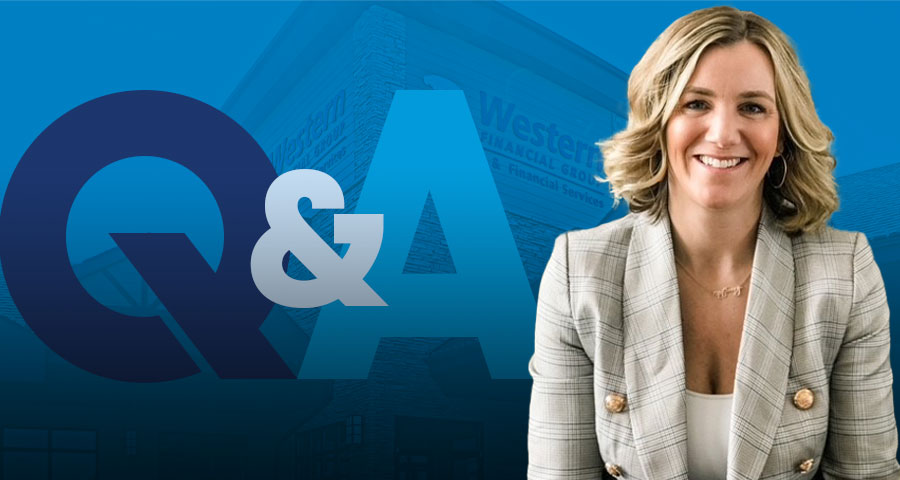 Kristy Rachkowski, Chief People & Culture Officer, discusses how Western Financial Group is a leader in flexible work arrangements.
I'm Western's Chief People & Culture Officer and I am based in Sault Ste. Marie, Ontario. I have been with Western for 8 months and being able to work for a company with a head office in Alberta while working remotely has been an amazing opportunity for me. Working for a Canadian Top 100 Employer like Western coupled with the ability to be closer to my family has been so rewarding. Having extended family close by has really helped my husband, Trevor and I, balance work with our life of raising our two boys, Noah and Evan.
Q: The COVID-19 pandemic has changed the nature of work. Are in-person and remote work now our model at Western?
A: Western has been very open minded regarding flexible work arrangements as many of our employees needed them throughout the pandemic. Our employees have proven that they can be very productive and it's giving them a better sense of control over their work and their personal life and how the two work together. So, I absolutely think that there is a hybrid work environment that is going to be the norm as we move forward.
A lot of people still want to come into the office, and we're giving them the choice to do that, if that's their primary objective. Others want hybrid work and they want to have the option to come into an office sometimes and to work from home other times. And then, some employees are saying they want to be fully remote, and we're allowing people to choose.
The only area where it becomes challenging is in our customer facing roles where you physically need to be there in front of a customer, supporting and caring for their insurance requirements. As a result, there are certain roles where that fully remote option is just not available due to the nature of that work and our customers' needs.
Q: How does flexible, remote work benefit Western?
Even before the pandemic, employees were telling us that flexibility was important to them. This is not just a phenomenon at Western. Flexible work arrangements were and are becoming more and more popular. When you're searching for talent, the pool gets a lot bigger if you can have employees work from anywhere.
The pandemic forced remote work to happen really quickly and it forced companies to get really comfortable with it. Western adapted quite quickly with some technology adds such as Teams for virtual meetings, which accommodates people no matter where they are located.
I live in Northern Ontario, so I'm also a perfect example. I would not likely be working for Western if flexible work arrangements were not an option because of where I live. Western's openness has been an asset to me and others in similar situations.
Q: Is the hybrid or remote work model a benefit for Western to attract and retain staff? Do candidates expect it?
A: Western's openness to flexibility and remote work is exactly what is helping us attract really great people to the organization. In a lot of our job postings, we explicitly call it out when remote work is an option. It's definitely a driver of candidate numbers and quality and that has been a big win for us. It's an expectation that people have now.
I've worked for other organizations that demonstrated flexibility, but I feel like Western is quite advanced in their thinking around this.
Q. Are investments in staff well-being particularly important now that our work environment has changed for some employees?
A: I think the upside of remote work or hybrid work is that employees are able to be where they need to be, but I think the downside is that sometimes people can feel a little bit isolated. We have to work extra hard to build connections with our co-workers.
We've also become really aware that mental health is something that we need to continuously focus on. We want to be consciously mindful of people's workloads and their pace of work.
I think Western has done some great things to try to foster mental wellness and one of them is no-meeting Fridays. To me, that's a really great game changer because it allows people to head into the weekend with a clear mind and have productive time to think and plan. We also want to be more proactive on education sessions for employees on how to continue to take great care of themselves, physically, emotionally, mentally, etc.
Wellness will continue to be a big focus for us moving forward because that's another way for us to differentiate ourselves and take care of our people.
Q: How do you connect hybrid and remote employees to Western's culture and help these workers to develop relationships with their teams?
A: We need to ensure that when we're bringing people into the organization that we're doing a really good job of onboarding them to make sure that everyone understands the values of the organization and the culture here and that they establish strong connections from the very beginning.
I think that there's also an opportunity for us to get better at creating opportunities to connect that are not necessarily always business related. You have to go out of your way a little more as a leader to connect personally with your teammates who are remote or who you don't get to see every day.
Western has realized that we need to continue listening to our people and adapt and support them in new and emerging ways. We want to offer a uniquely exceptional employee experience and flexibility at work is one of the main ways we can do that while continuing to deliver top-tier customer care. Caring about our people at work and in their personal lives is what differentiates us.