How to Buy an RV and What Insurance You Need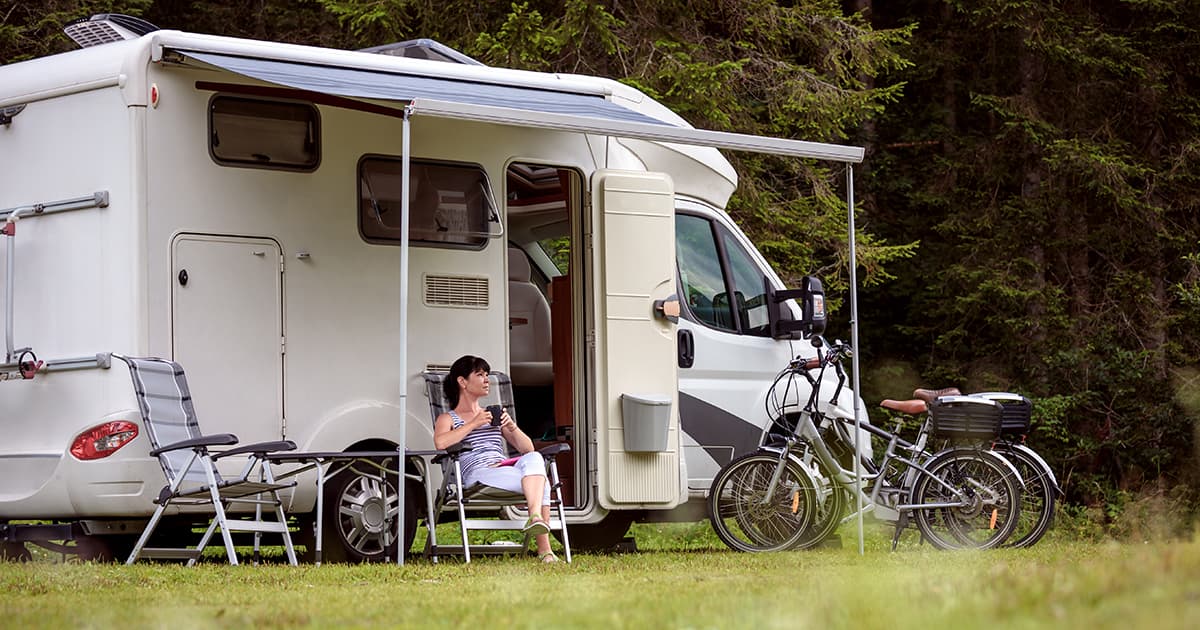 RVing is a popular way to spend summer for many Canadians. Here are some tips for buying, insuring, and maintaining your RV so you can start your adventure as soon as the last sliver of ice melts from your driveway.
How to buy an RV
There are a few ways to buy a recreational vehicle (RV). You can purchase one from an RV show, event, dealership, or private seller.
RV dealership
Buying your RV from a dealership has advantages. They will be able to service your RV in the future, are familiar with the brands they sell, and can assist with financing and any warranty issues.
Dealer event
RV dealer events have scaled back in size and gone online, which means that you do not need to travel to attend. Events are great for listening to speakers, browsing new products, and getting discounts.
RV show
When you buy an RV at an RV show, you are still buying from a dealership, but may be able to get a special deal or discount. Go to an RV show if you are ready to buy an RV and are thinking of making a purchase on the spot if a great deal on one you love comes along.
Private seller
You can buy a used RV or one that was purchased unfinished from a private seller. You may get a great deal but be aware that you may not get financing options, orientation, and RV fitness and history checks like you would at a dealership.
What insurance do I need for my RV?
It depends on what kind of recreational vehicle you have. If your RV is a travel trailer, tent trailer, or fifth wheel, you may not need to insure it. But Class A, B, and C motorhomes must be insured, and some towables also need insurance.
Class A RVs are the largest and most similar to a home. Class B RVs are the smallest and more like a vehicle, and Class Cs are somewhere in between. Even if you are not legally required to insure your RV, you should have enough coverage to protect your investment if it is damaged or property is stolen from it.
Your Western RV insurance expert will answer any questions you may have about insuring your recreational vehicle.
What is covered by RV insurance?
RV insurance can include both mandatory and optional coverage for your motorhome, and your policy can have these types of insurance:
Liability
Your motorhome will require third-party liability insurance like your car does. If the use of your RV results in an injury or property damage, medical bills and repairs would be covered by your liability coverage.
Collision
Collision insurance covers damage to your RV if it is in an accident. If paying for extensive repairs to your RV would be unaffordable, you may want to consider adding collision coverage to your RV insurance policy. Collision coverage can be suspended while your RV is in storage to save you money on insurance.
Contents
The personal property inside your recreational vehicle can be covered for up to 15% of your RV's insured value. If your RV has high-end amenities and serves as your home for a large portion of the year, you should consider this type of coverage.
Living and travel expenses
If you cannot use your RV because of an insured loss, your travel and living expenses will be covered.
Loss of use
your loss of use coverage will pay for an RV rental and non-refundable camping deposits if you cannot use your RV because of insured damage.
Structures and accessories
Structures and accessories insurance covers your RV's accessories, portable structures, and equipment where your RV is parked.
Fire department charges
If a local fire department bills you for their services, this will be covered by your RV insurance policy.
RV spring Maintenance tips
Before you hit the road, do a little RV spring cleaning.
Check for damage, wear and tear, and rodents by opening all doors and compartments.
Inspect the battery, reconnect dry cell batteries you may have removed, and test your electrical system.
Safety is a key part of RV spring maintenance.  Make sure the carbon monoxide, smoke, and LP gas leak detectors are all working and that the fire extinguisher is fully charged.
Open the awning and clean it to remove dirt and debris and prevent mold from growing.
Check hydraulic jacks and fluid.
Flush the drinking water tank with a drinking water tank freshener.
Check tires for cracks and wear and check their pressure.
Inspect seams and seals around windows and vents and reseal them if needed.
Inspect and test all appliances.
Treat grey and black water tanks with a drop in treatment to keep sensors and tanks clean and valves, pipes, and seals functioning.