How to Stay Safe During a Hailstorm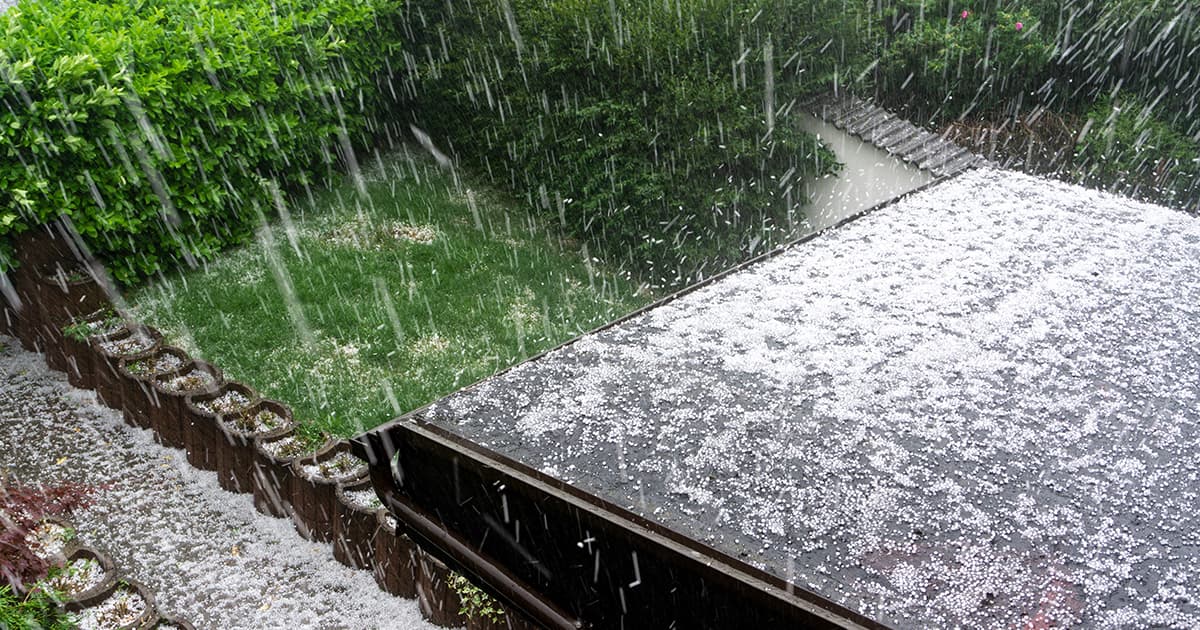 With spring comes hail season. A hailstorm can be punishing, damaging crops, denting vehicles, destroying roofs and windows, and injuring people and animals.
Hail season is from May to October. Environment Canada says that hail can hit the ground at 130 kilometres per hour, like a blast from the sky. Hail can be the size of a pellet or get as big as a grapefruit.
Most home insurance policies include weather-related damage like hail
Check to make sure, though, that your policy includes all perils. A peril is an event that is unexpected and accidental. Hail is considered an insured peril and coverage includes damage caused by flying debris, falling branches or trees, or damage to your home and contents from water coming through openings caused by wind or hail. It also applies to the exterior of the building but excludes antennas and satellite dishes.
Does my car insurance cover hail damage?
If you haven't opted for comprehensive insurance for your car, you are not covered for hail damage.
If you have a newer car or can't afford the cost of repairs for hail damage, you can add comprehensive insurance. Comprehensive or all perils car insurance includes coverage for certain perils such as flooding, fire, and hail. This coverage is not mandatory.
Hail insurance
If you are a farmer, hail insurance is a way to protect your crops.
Hail is one of Canada's most expensive hazards. Your crop hail premium is determined by such aspects as the number of acres and the crops you've chosen to plant.
Follow these top tips to stay as safe as possible during a hailstorm.
What to do if you're outside in a hailstorm
1. Cover your head to protect it from injury with anything you have — a jacket, sweater, purse, backpack.
2. Get inside as quickly as possible to protect yourself. Bring any pets inside, too.
3. Avoid taking shelter under a tree. Hail is often accompanied by lightning, which can strike trees, break branches, and cause electrocution.
4. If you're driving, pull over to a safe location as soon as you can and put on your hazard lights. It's better to stay in your car and wait out the hailstorm. Move to the middle of your car, away from the windows. Cover your head and eyes in case of broken glass from a shattered car window.
What to do if you're inside during a hailstorm
1. Make sure all family members and pets are accounted for and inside. If you're at the office, make sure everyone is accounted for and stays inside.
2. Stay away from windows and close curtains or blinds, in case of flying glass shards.
3. Avoid using or touching electric appliance because if there's lightning, it can travel through your home's wiring and injure you if you're using an appliance.
4. If there's a power outage, turn off electronics and appliances to avoid damage from a power surge. Turn off valves if you think there's a gas leak.
Did you know Canada's top spot for hail?
Southern and Central Alberta take Canada's No. 1 spot for hail.
It's called Hailstorm Alley and it stretches from High River to Calgary, through Red Deer to Lacombe and then westward to Rocky Mountain House. It's also called Hail Alley, which is described as the region between Edmonton and High River. Take your pick.
Whatever you call it, this area is known for destructive hailstorms and it's Canada's No. 1 area for hail.
Calgary is Alberta's #1 city for hailstorms
Calgary is at the heart of Hailstorm Alley. The city has had five damaging hailstorms between 2010 and 2020 and is Canada's No.1 city for hail.
What to do when the hailstorm is over
Check your house and property for damage. If there's damage, document it, take photos, and call your insurance company.
Most home insurance policies provide coverage for damage caused by hail, but policy deductibles and limits of coverage vary.
How to help prevent hail damage
Keep your trees trimmed to prevent any weakened branches from falling on your house.
Consider using impact-resistant asphalt shingles on your roof.
Make sure that eavestroughs are clean and drain spots aren't blocked to help prevent any water damage during a hailstorm.
How much damage does hail cause?
Annual hail damage in Canada has amounted to $400 million each year, on average, since 2013.