What is an attractive nuisance property?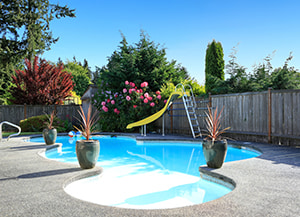 An attractive nuisance property refers to a property or feature on a property that's usually attractive to children but also poses a potential danger to them.
Attractive nuisances are things like swimming pools, trampolines, abandoned buildings, construction sites, or other objects or conditions that might entice children to enter or interact with them out of curiosity, despite the potential hazards involved.
The specific legal requirements and definitions regarding attractive nuisances can vary from jurisdiction to jurisdiction, and they may depend on factors such as the age of the child, the nature of the property, and the foreseeability of the danger.
Property owners are encouraged to be aware of and take reasonable precautions to address attractive nuisances to avoid potential legal liabilities.
What counts as an attractive nuisance?
Swimming pools: Swimming pools are a classic example. Their water can be enticing to children, and they may not understand the dangers of drowning.
Trampolines: Trampolines can be attractive to children for play, but they pose a risk of injuries if not used safely.
Playground equipment: Swing sets, slides, and other play structures can be attractive to children, but they may also lead to injuries if not properly maintained or supervised.
Abandoned buildings or structures: Abandoned buildings or structures can be enticing for exploration, but they often present hazards like collapsing walls or floors.
Construction sites: Construction sites can attract children due to their equipment and materials, but they can be very dangerous due to heavy machinery, open pits, or other hazards.
Ponds or wells: Bodies of water, like ponds or wells, may be attractive to children, but they pose a drowning risk.
Railroad tracks: Railroad tracks can be fascinating to children, but they are very dangerous due to the risk of trains.
Old appliances or vehicles: Abandoned appliances or vehicles can be seen as playthings by children but may contain hazards, such as sharp edges or toxic substances.
Animals: In some cases, animals, especially if they're kept as pets or in a zoo-like setting, can be considered attractive nuisances if they pose a danger.
What are my responsibilities as the property owner of a 'legal nuisance'?
The legal principle behind the concept of an attractive nuisance is that property owners have a duty to take reasonable steps to prevent harm to children who may be drawn to these attractive nuisances, even if the children are trespassing on the property.
This duty typically involves taking measures to secure or safeguard the property or feature to minimize the risk to children. Failing to do so can make the property owner liable for injuries or accidents that occur as a result of the attractive nuisance.
How do I protect myself against liability with any attractive nuisances on my property?
If you believe that your property might be considered an attractive nuisance, it's important to take steps to address potential hazards and minimize the risk to children. Try starting with these basic steps:
Identify attractive nuisances: First, identify any features on your property that might be attractive to children. This could include swimming pools, trampolines, playground equipment, abandoned structures, or other enticing objects or conditions.
Secure the area: Take measures to secure or restrict access to these attractive nuisances. Fences, gates, locks, and other physical barriers can be used to prevent unauthorized entry.
Warning signs: Use warning signs to inform visitors and potential trespassers of the potential dangers. Signs can help establish that you've taken reasonable steps to warn people about the risks.
Regular maintenance: Ensure that your property is well-maintained and free from hazards. For example, keep swimming pools clean and maintained, remove debris, and repair broken equipment.
Supervision: If you have attractive nuisances on your property, consider supervising any children who have permission to be there. This can help ensure their safety.
Homeowners insurance: Make sure your homeowners insurance policy covers liability for injuries on your property. This can provide financial protection in case of accidents or injuries.
Consult legal advice: It's advisable to consult with a legal professional to understand the specific laws and regulations related to attractive nuisances in your jurisdiction. They can provide guidance on how to minimize your liability and protect your interests.
Remember that laws regarding attractive nuisances can vary by location, so it's crucial to consult with a local legal expert or insurance provider who is knowledgeable about the specific regulations in your area.
Taking proactive steps to address potential hazards on your property can help protect both children and your legal interests.
My property has an attractive nuisance and someone has made a claim against me. What now?
You should always be sure to have homeowners' insurance on your property, as this will cover you against liability. If someone makes a claim against you related to an attractive nuisance on your property, here's what typically happens:
Claim Notification: You will receive a notice or formal complaint from the individual, their attorney, or their representative, stating that they believe you are legally responsible for an injury or harm caused by an attractive nuisance on your property. This will likely come in the form of a demand letter or a lawsuit.
Legal consultation: It's highly advisable to consult with an attorney who specializes in premises liability or property-related claims as soon as you receive the claim. They can provide guidance on how to proceed. You'll want to reach out to your insurance provider as well.
Claim evaluation: Your attorney will evaluate the validity of the claim. They may gather evidence, interview witnesses, and review relevant documents to assess the strength of the claim.
Response preparation: Your attorney will draft and file a response to the claim, either accepting or denying liability. This response will present your legal defenses and arguments.
Negotiation attempts: Often, parties will attempt to negotiate a settlement outside of court. Your attorney will represent your interests during these discussions, aiming to reach a mutually agreeable resolution.
Legal proceedings: If a settlement cannot be reached, the case may proceed to court. Both sides will present their arguments and evidence, and a judge or jury will make a determination.
Potential outcomes: Depending on the court's decision, you may be required to compensate the claimant for their injuries or losses, and the court may specify actions you need to take to address the attractive nuisance.
Insurance involvement: If you have liability insurance for your property, your insurance provider may handle the claim on your behalf, including investigation, negotiations, and legal representation, if needed, up to the policy limits.
Appeal options: If you disagree with the court's decision, you may have the option to appeal the judgment to a higher court.
Settlement opportunities: At any stage of the process, the parties may agree to a settlement, which can bring the matter to a close without a court judgment.
While the specifics of each claim are going to vary greatly, you can do yourself a favour by preemptively doing your best to create a safe environment on your property and make sure you're covered by homeowners or liability insurance.