It was always a view west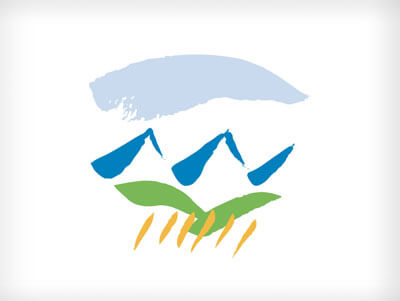 Western Financial Group's logo is an unending source of employee pride and as a company touchstone, it has gained meaning and brand power over 22 years.
The image dates to 1996 and the founding of Hi Alta Capital, Western's previous name. Year after year—even as Western has grown or evolved—the logo has remained the same network wide.
It started with looking west from High River, but today, the logo represents the view west from Ontario, Manitoba, Saskatchewan, Alberta and British Columbia.
"In today's markets in which Western serves, our logo remains applicable and symbolizes the insurance value we provide to our customers," Kenny Nicholls, Western's president and CEO, said. "When seen across our network, the logo solidifies us as Western Canada's largest insurance brokerage network."
Each part of the logo has strong meaning.
The crowning swatch of light blue is the prairie sky.
The mountains are the inland and coastal ranges of the Rocky Mountains.
The hills are the forests and hills of British Columbia and Alberta.
The stalks represent prairie wheat fields.
A powerful logo delivers an emotional response and shapes how customers view the company.
"For me, it's intensely personal and a big source of pride," Senator Scott Tannas, Western's founder, said, adding it's special to visit communities served by Western. "When I see (the logo) I feel good."
Just as the image was created to represent what Western meant to its people in 1996, the logo features elements of modernity and is forward-thinking in its design.
The Guiding Principles—Truthfulness, Fairness, Value and Loyalty—are another touchstone that, like the logo, not only shaped but continue to define Western Financial Group and its brand.
These principles were formed to maintain and support Western's early culture and ethics and were based around one-word character descriptors of the company's then 10 best employees.
Western has stayed true to its logo and the culture embedded in the Guiding Principles.
Today, the image we know as Western's logo depicts the size of the brokerage network and customers know and recognize it as representing their trusted independent insurance experts across Canada.