Maintaining and Protecting Your Grain Bins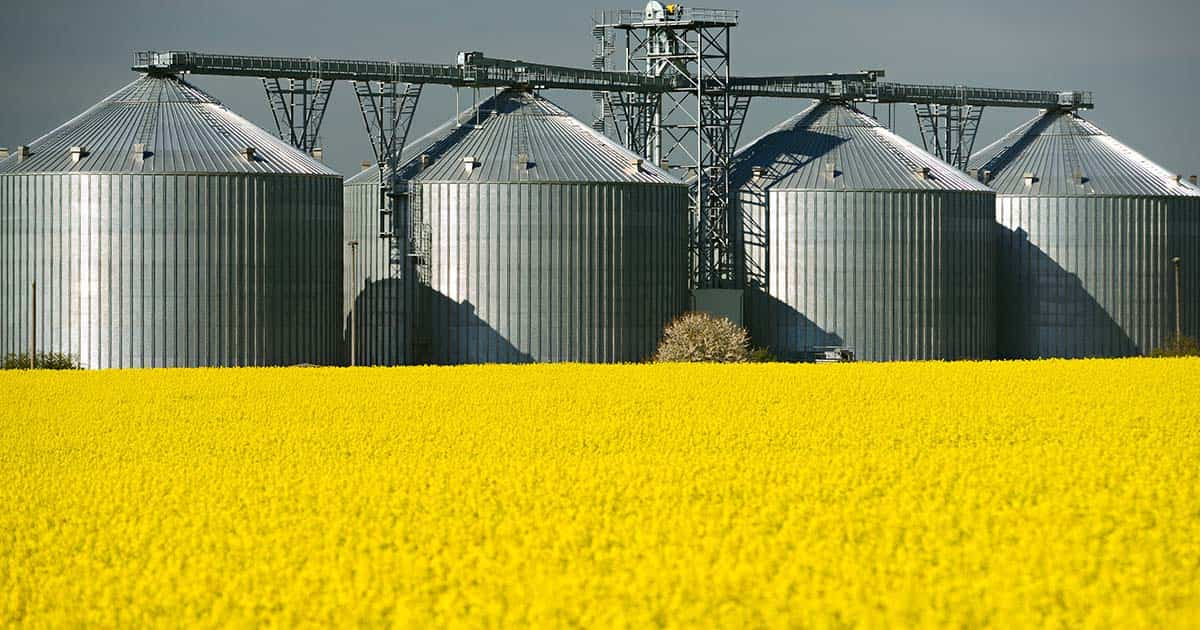 Farmers across Canada need to protect and adequately maintain their grain bins. Grain bins are not only essential to business, but also help to maintain global food supplies. CEO of Cereals Canada, Dean Dias, said that "that's the business we are in, providing global food security to the world."
Protecting your harvest is especially important this year. As the war in Ukraine continues, the United Nations has warned that already high food prices could rise another 22%. Canada's Agriculture Minister Marie-Claude Bibeau pointed out that "while Canada, as a leading global agri-food exporter of many key products, is working with its allies on how it can assist efforts, Canadian wheat production was significantly reduced due to last year's drought and there is not a significant amount of wheat uncommitted and available to the market until the next harvest."
In 2021, while there was sufficient moisture in Southern Ontario, drought conditions in Western Canada led to lower-than-normal yields of grains. Wheat, canola, barley, oat, and soybean yields were all low across Western Canada. According to the Statistics Canada November 2021 Field Crop Survey, "because of challenging growing conditions, several major field crops grown predominantly in Western Canada experienced their largest year-over-year yield decrease on record, falling to levels not seen in more than a decade."
Get an insurance quote button
Protect your grain bins with farm insurance
The unpredictability of the weather is just one of the many risks Canadian farmers take and having farm insurance is an important part of protecting your business. Coverage includes:
Grain bins
Your house and structures like garages and decks attached to it
Outbuildings like sheds and workshops
Produce such as grains
Machinery and equipment like tractors and combines
The income your business earns
Liability if there is a work-related accident
Many farm insurance policies cover threshed grain and storage bins, and you should make sure your policy covers your grain bins in case there is an accident. For example, a grain bin could become too dry and a fire could start and continue unnoticed for a few days. It could grow and set the grain bin on fire while also damaging a neighboring grain bin, rendering the grain unsaleable. If your farm insurance policy covers your grain bins, it would cover the fair market value for the grain and the cost of replacing your grain bins minus the deductible.
Assess storage capacity
Determine whether you have enough storage, and if not, whether you need long-term or short-term storage. Agriland advises to "consider long-term storage needs, the costs required to construct a properly drained site for temporary storage structures, and the additional manpower and/or equipment required to fill, maintain and reclaim the grain from a temporary storage system."
Also, take into account how long you will be storing your grain and choose the best option for avoiding spillage losses.
Preparing grain bins
Inspect the inside and outside of the bin, replace missing or broken bolts, and replace or paint rusty wall sheets. Seal the bin to the foundation and replace missing door covers or lids. Remove all mold, fungi, and old grain from the inside, making sure to check underfloor areas, and fumigate if needed.
Do a pre-season service check
Do a pre-season service check on your drying equipment because planting in late spring can mean a late, wet harvest. Make sure safety circuits, components, and electrical connections are functioning correctly, paying extra attention to solid-state or computerized controls systems.
Make sure storage conditions are right
The right temperature and moisture are essential for mold and insect prevention. Run the aeration fans long enough to finish an aeration cycle. Agriland explains that "at very low airflow rates, it can take 150 and 200 hours to properly complete an aeration cycle. Run your aeration fans long enough to complete an aeration cycle, but not too long, to prevent over-drying the grain."
Even with proper aeration you will need to monitor the temperature inside the grain bins and follow recommendations for the type of grain you are storing.
Be safe
According to Global News, "It can take as little as three seconds for a person to be completely buried by fast-flowing grain — a preventable cause of death on Canadian farms."
Be very cautious when entering a grain bin. Turn off power to all equipment in the bin, lock the control panel, and hold onto the key. One person should always remain outside of the bin with visual contact with the person inside. You should always have a rescue plan.