Opening Our Hearts and Minds to Truth and Reconciliation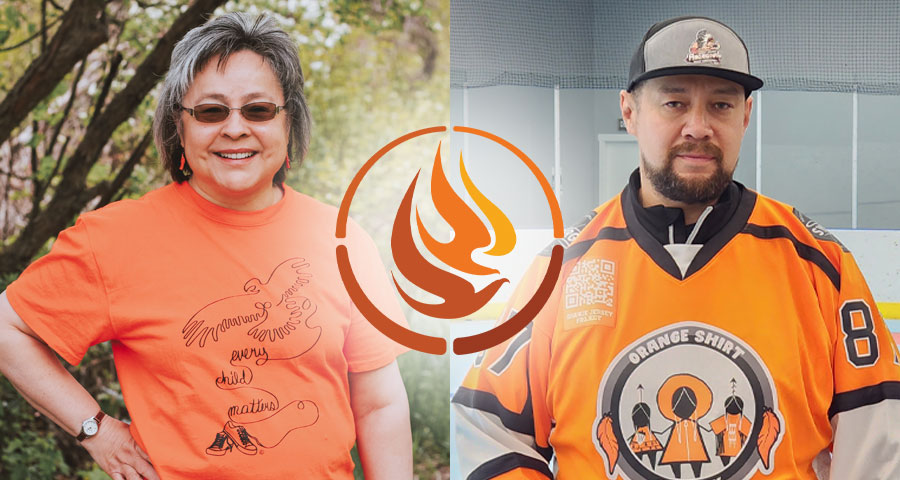 Phyllis Webstad founded Orange Shirt Day. She travels the country talking about her experiences while at residential school and raising awareness about the impacts of Canada's residential school system. She has written four books, "The Orange Shirt Story" and "Phyllis's Orange Shirt," "With Our Orange Hearts" and "Beyond the Orange Shirt Story."
Phyllis's son, Jeremy Boston, is the manager of the Orange Jersey Project. Minor hockey players across Canada are given orange jerseys to wear at practices and events to encourage them to learn about the history of the Residential School System and to participate in reconciliation between Indigenous and non-Indigenous peoples.
Orange Shirt Day and National Day for Truth and Reconciliation both take place on Sept. 30.
Western was honoured to have Phyllis and Jeremy answer our questions about Orange Shirt Day and the National Day for Truth and Reconciliation.
Question: Now that the National Day for Truth and Reconciliation is in its second year, how are you feeling about it now?
Phyllis: The first Orange Shirt Day started on Sept. 30, 2013. And to me, it will always be Orange Shirt Day first. So, what I say now is that it's Orange Shirt Day, National Day for Truth and Reconciliation.
The Truth and Reconciliation Commission of Canada's recommendation No. 80 says "We call upon the federal government, in collaboration with Aboriginal peoples, to establish, as a statutory holiday, a National Day for Truth and Reconciliation to honour Survivors, their families, and communities, and ensure that public commemoration of the history and legacy of residential schools remains a vital component of the reconciliation process."
Last year was the first year for the National Day for Truth and Reconciliation. I credit the announcement on May 27, 2021, of the Tk'emlúps 215 for the National Day for Truth and Reconciliation.
I'm glad that it's a statutory holiday. At some point in history, there will be no survivors left in Canada. My mom and my aunts and my uncles, the ones that had the harshest time are in their 70s, and I'm 55. Jeremy is in his 40s. Not too far down the line, there will be no survivors left in Canada. So, I'm just happy that there is this National Day for Truth and Reconciliation to keep the conversation happening.
Jeremy attended the last operating residential school in Canada when it closed in 1996, St. Michael's Indian Residential School at Duck Lake in Saskatchewan. We have four generations of our family that attended residential school.
Q: Your new orange shirt was taken away from you when you arrived at residential school. Have your feelings about the colour orange changed? Or does the colour orange still remind you that your feelings didn't matter, and no one cared about you at residential school?
Phyllis: Some people think it's my favorite color, but it is not. I only wear orange for Orange Shirt-related work. You won't see me on a Saturday voluntarily wearing orange on my day off.
I've learned to make friends with it, even have fun with it. At one time, I couldn't even be close to that colour. I would be in a store and if I would see it and I would go the other way, or take a few steps back and go around it because that's what it reminded me of. My feelings have changed, but it's still not my best friend.
Q: How will you and Jeremy commemorate September 30th? What will you be doing on that day?
Phyllis: Jeremy and I will be in Niagara Falls with 19 family members and friends. I've never been with Jeremy or my grandchildren on Orange Shirt Day, so this will be a first.
Niagara Falls will be lit orange on Sept. 30 to honour the children who went to Indian Residential Schools in Canada.
We will start the day with a sunrise ceremony and then we will have an official ceremony.
There will be Indigenous people on both the Canadian and American side of Niagara Falls who will be drumming that day.
Jeremy: I am feeling proud and emotional to be with my mom on that day for the first time.
Q: What kind of an impact do you think Orange Shirt Day and the National Day for Truth and Reconciliation are making with Canadians?
Phyllis: The symbol for the National Day for Truth and Reconciliation is the orange shirt, which of course comes from Orange Shirt Day. Canadians who wear orange are showing their support and having conversations. The conversation is what's important and that's what will bring change.
Q: Tell us about the Orange Jersey Project for young Canadian hockey players.
Jeremy: What we do is provide orange jerseys to hockey teams with players under 18. This year, we'll be doing 750 teams across Canada. Last year, 500 teams were given orange jerseys.
We hope that players will ask, "Coach, why are we wearing orange?"
And that's where we will be providing the coaches and team managers from minor hockey associations with our curriculum book as well as our online learning module. Each team will receive a link to go on our website and we have a module list so that they can learn about residential schools. There will be a leaderboard for each module and participants will be in a draw to win prizes.
Teams, coaches, players can wear their orange jerseys during their practices and each jersey will have a QR code on it, which people can scan to find out, "Where did you get that jersey from and what is it about?"
Phyllis: The players get to keep them so they can wear them within their communities to family dinners or other activities. It's a way of creating conversation. We encourage them to wear these jerseys in their everyday lives, too.
Q: Do you think Canadians know enough yet about what happened at residential schools, and do we need to keep the educational process going?
Phyllis: People who are adults today did not learn what happened to us while they were in school. For survivors and their families, we didn't even talk about it in our homes.
But now there is no longer an excuse for Canadians to not know what happened to us. As Murray Sinclair (former chair of Canada's Truth and Reconciliation Commission) says, this is not only indigenous history, this is Canadian history.
I think there will always be those who don't know or don't care or don't make the effort to learn.
And there are a lot of people, not just me with Orange Shirt Day, doing good work in regard to educating Canadians about what happened. In every province, there are survivors and champions who are doing work as well.
But it's not on our shoulders to educate Canadians. They need to do their work themselves, as well. There's reading to be done. There's sharing with others. There's correcting others when they know better.
Jeremy: Truth and reconciliation is not just September 30th. It's an ongoing subject. That's 365 days a year. So, the education portion is not just one day. It's every day to learn about the truth and reconciliation project.
Q: What do you want to say this year for Orange Shirt Day and The National Day for Truth and Reconciliation?
Phyllis: I'm on the survivor circle for the National Centre for Truth and Reconciliation. And there's a survivor in the circle who is always reminding everyone, and us in the circle, that truth comes before reconciliation. And what that means is the truth is not yet fully told.
The truth is still to be fully told. My story is not unique. There were 150,000 children taken from their homes and families and sent to residential schools. They and their families have stories to tell as well.
Jeremy: Open your hearts and open your minds to the past and present day.
It's like my mom said, the truth is yet to be told. We're still learning the truth today. So just continue to open your hearts and minds.