Supporting Dauphin and District Seniors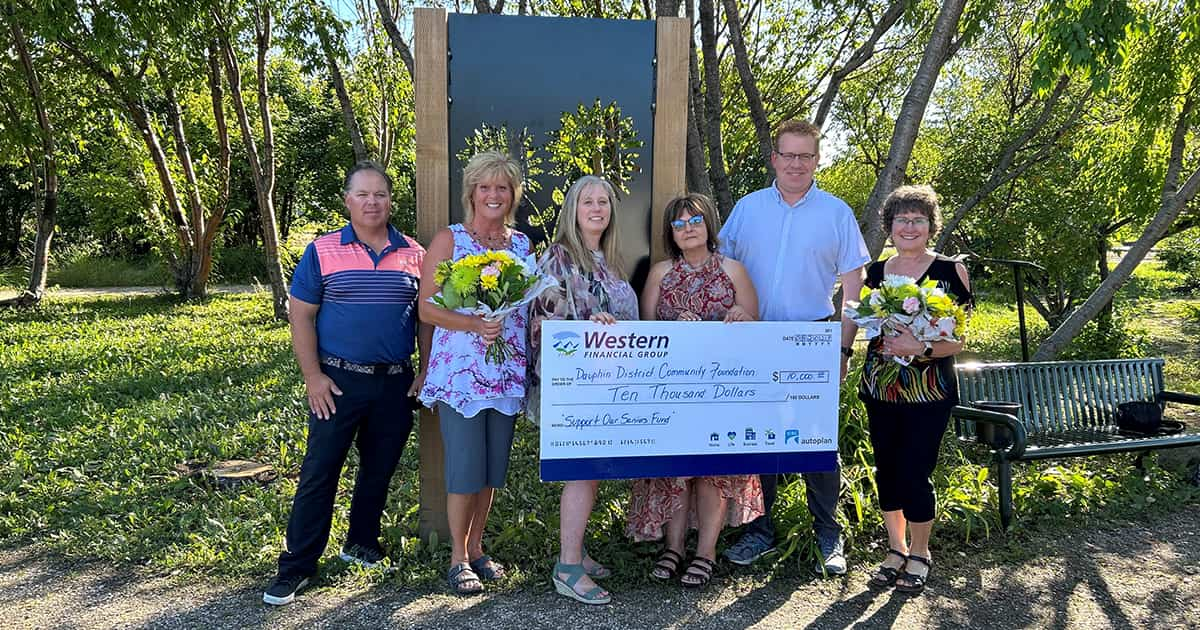 Western Makes $10,000 donation to the Dauphin and District Community Foundation – Support our Seniors Fund
It's been two months since the tragic bus crash involving Dauphin-area seniors that resulted in 17 victims and eight survivors, some of whom are still in hospital recovering from their injuries.
The seniors were on their way to a fun outing at the Sand Hills Casino when the crash occurred on June 15, 2023. The news rocked the Dauphin Community and the Western Financial Group team.
This horrific event really affected our little Gilbert Plains office significantly. Not only were a few of our customers and community members in this accident, but also a Team Member's mother-in-law.
On the day of the accident, we heard little tidbits of what had happened, not knowing it would be affecting us directly. Then a few hours after the accident, Dee Joyce received a call from her husband, no news of how his mother was but just that she was in the accident. Later that evening they finally received hopeful news that she had survived the crash but was in serious condition.

They were able to be by her side and speak with her for a few days but unfortunately, she did succumb to her injuries on June 20. We also had a dear community member, Customer and distant relative to Nancy Beattie in this accident who passed away at the scene.

We eventually received hopeful news that 2 of our community members and Customers did survive the accident. They have a long road of recovery ahead of them, but it will be so nice to see them again in the office and around the community.

We are so proud that Western Financial is supporting this new fund in honour of these special people and our neighbouring community as we all know someone who knows someone that was affected by this event.

- Gilbert Plains Branch
Members of our Manitoba team, who have close connections to the victims and survivors, asked if we could do something to support Dauphin. Western agreed and a $10,000 donation was made to the Dauphin & District Community Foundation - Support our Seniors Fund.
The fund will be supporting organizations that work with seniors to assist with equipment, programming and activities, and it will be handled as part of our regular granting program. The only difference is that it is specifically to benefit seniors.

- Kit Daley, Executive Director, Dauphin & District Community Foundation (DDCF)
This newly established fund will be administered through the Dauphin and District Community Foundation's traditional community foundation model.
To make a donation to the Support Our Seniors fund, please go to The Dauphin and District Community Foundation - Support Our Seniors Fund.