Why Snowbirds Need Travel Insurance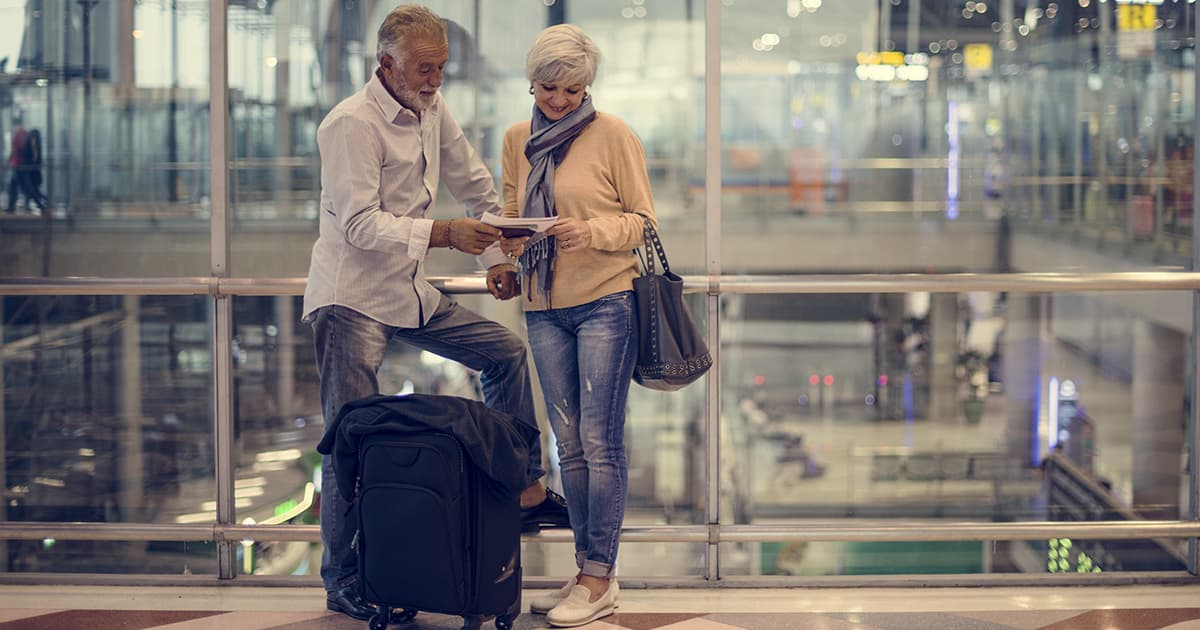 The cold weather is coming, and many Canadians are getting ready to head to warmer climates for the winter. If you're above 60 years old, you may have some specific needs to consider.
Travel insurance provides peace of mind and financial protection in case of unexpected events, regardless of age.
Travel insurance is most often associated with emergency medical care, but did you know that it covers much more than that? Here are the top four non-medical benefits of having travel insurance:
Trip cancellation and interruption: Travel insurance can also protect against unexpected events that might cause a trip to be cancelled or interrupted, such as a family emergency or severe weather. This coverage can be valuable for travelers of all ages, including older individuals. Older travelers may have more substantial investments in their trips, such as luxury cruises or extensive international tours, making trip cancellation coverage more relevant.
Travel delays and missed connections: Older travelers might have less flexibility in their schedules and may find it more challenging to deal with flight delays, missed connections, or other travel disruptions. Travel insurance can help cover additional expenses and provide assistance in such situations. Many travel insurance policies offer assistance services, including 24/7 helplines, which can be particularly useful for older travelers who may need help with various aspects of their journey.
Travelling abroad: If older individuals are traveling internationally, travel insurance can also provide coverage for issues like lost or stolen luggage, passport replacement, or emergency legal assistance.
Financial considerations: Older individuals may have limited resources or fixed incomes. Travel insurance can protect their financial investment in a trip, helping to avoid significant financial losses due to unforeseen circumstances.
Of course, most older travellers choose travel insurance based on medical care coverage, so it's important to be aware of the kinds of benefits that are available to you. Most travel insurance plans cover a wide range of health emergencies, so be sure to consult with your travel insurance agent about the fine print when purchasing a plan.
Carefully review the policy details, consider your individual needs, and make the best choice for you. Here are a few of the most common health needs that travel insurance for older people can cover:
Emergency medical expenses: If you have the misfortune of experiencing an injury or illness while travelling, this kind of coverage will take care of any international medical bills, including hospitalization, doctor visits, prescription medications, and even emergency dental treatment. Keep in mind that you will need to carefully document the incident and submit a claim or event notification usually within 24-48 hours of the incident to receive full coverage.
Medical evacuation: In the most serious cases of medical emergencies abroad, travel insurance can cover the cost of emergency medical evacuation to the nearest suitable medical facility or back to your home country if necessary. The importance of this care cannot be overstated, especially if you prefer adventurous travel or remote destinations.
Repatriation of remains: In case of a tragic accident, this travel insurance coverage will provide for the transportation of your body back to your home country. Some policies also provide a financial benefit in case of accidental death or loss of a limb during the trip.
Pre-existing medical conditions: It's extremely important to check what your travel insurance considers as a pre-existing medical conditions. Most insurance policies are very specific about what is covered and what isn't. Be sure to check well in advance of your trip, as sometimes purchasing the insurance within a certain time frame and meeting certain health stability criteria can help you save on the cost of the policy.
Trip interruption or cancellation due to illness: If an older traveler falls ill before or during the trip, and that forces you to cancel or interrupt your plans, travel insurance can cover non-refundable expenses such as prepaid flights, accommodations, and activities.
Prescription medication coverage: If you lose your prescription medications during the trip, some policies will cover their replacement with a locally sourced equivalent. Always travel with paperwork for all of your medications.
While it's always a good idea to buy travel insurance before a trip (regardless of your age), the specific policy and coverage you'll choose should come down to your specific circumstances and personal risk tolerance.
If you need help, get in touch with your Western Financial Group travel insurance expert to find out what options are available, what to budget for this part of your trip, and what to expect in case of an emergency or inconvenience abroad.