WPCA partnership celebrated by Western officials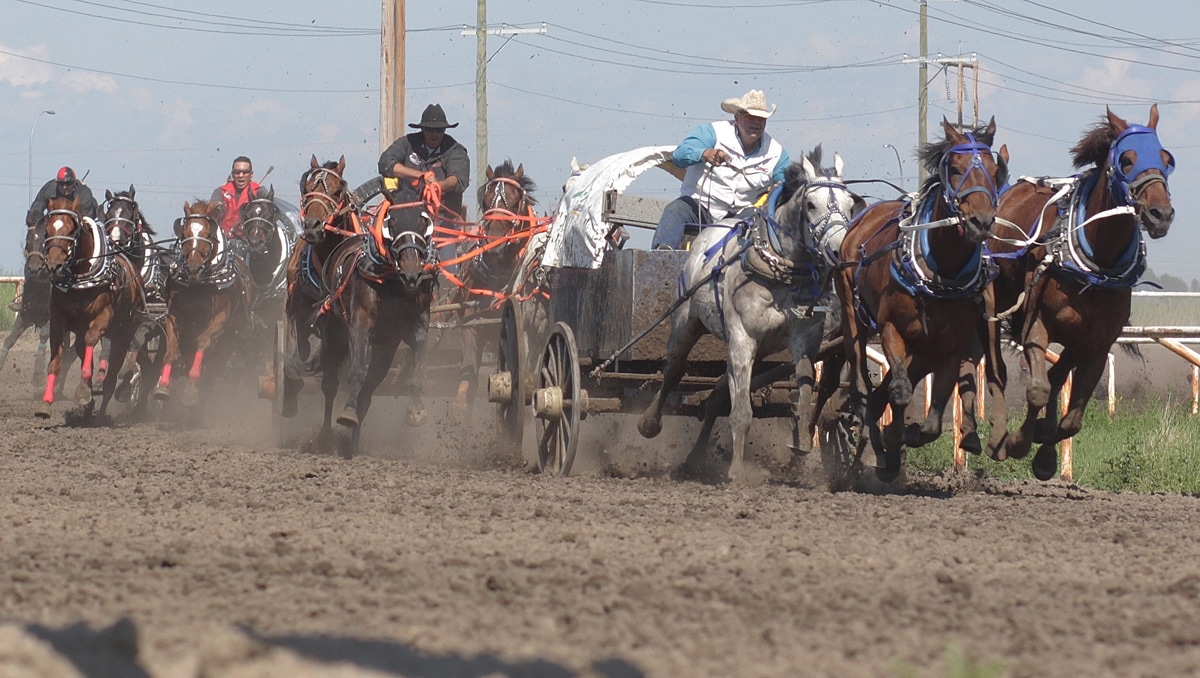 Western Financial Group is delighted to celebrate the partnership with the World Professional Chuckwagon Association (WPCA) as the 2018 wagon circuit wows audiences across western Canada.
For the third year in a row, Western has insured the popular WPCA circuit in addition to their offering individual policy coverage for drivers and outriders.
Western is proud to attend many of the events in the communities that are show stopping chuckwagon tour stops, Dena DeGrofft, manager of marketing and community engagement, said.
"With the WPCA, they've been so fabulous in helping us create more of an event," she said. "Every year it has gotten bigger and our presence has become stronger."
The WPCA tour runs in numerous communities that are also served by Western's insurance experts.
Tickets are available for staff or customer events and activation engagement, including a promo toss, occurs in Western markets including Grande Prairie, Saskatoon, Medicine Hat, High River, Strathmore, Dawson Creek and Rocky Mountain House.
"Our branches, every year, have gained more prominence and visual at these events," DeGrofft said, adding the WPCA tour offers a wonderful way to bring community members together.
High River's Guy Weadick Days ran from June 21 to 24. WPCA chuckwagon drivers attended Western's annual BBQ on June 22 that acted as an official kick off to the ongoing partnership.
The High River activation event offered DeGrofft an "unbelievable … sense of community."
Bryan Hebson, director of marketing with the WPCA, said the partnership is vital. He said both Western and the tour have deemed family and community values as important.
"When Western Financial Group sees the value in partnering with the WPCA, that's important," he said. "They're one of our top three partners."
Having Western employees involved on race days further boosts the sport, Hebson said.
"They've giving our fans a positive experience," he said, referring to posts on Western's social media channels and the ability for Western to further connect with fans.
"For us, when we're with partners and they're engaged, it drives us that much harder," Hebson said.
With pulse pounding action in Grande Prairie, Saskatoon, Medicine Hat, High River, Ponoka and Calgary in the rear-view mirror, Strathmore, Dawson Creek and Rocky Mountain WPCA dates are approaching.
DeGrofft said a community exists between drivers, their support teams and family members.
"They're from some of our communities and it really ties into Western's vision of supporting our communities," she said. "We're very rural based; most of our offices are in fairly rural areas."
The Western Communities Foundation's upcoming charity golf tournament at Highwood Golf on Sept. 6 will feature a western theme. For the WPCA and Western, this strong partnership will continue.
Come see Western's people at the Strathmore Heritage Days Stampede from August 3 to 6, the Dawson Creek Exhibition August 8 to 12 and in Rocky Mountain House August 16 to 19.