Western Commemorates Remembrance Day and Alberta's Sacrifices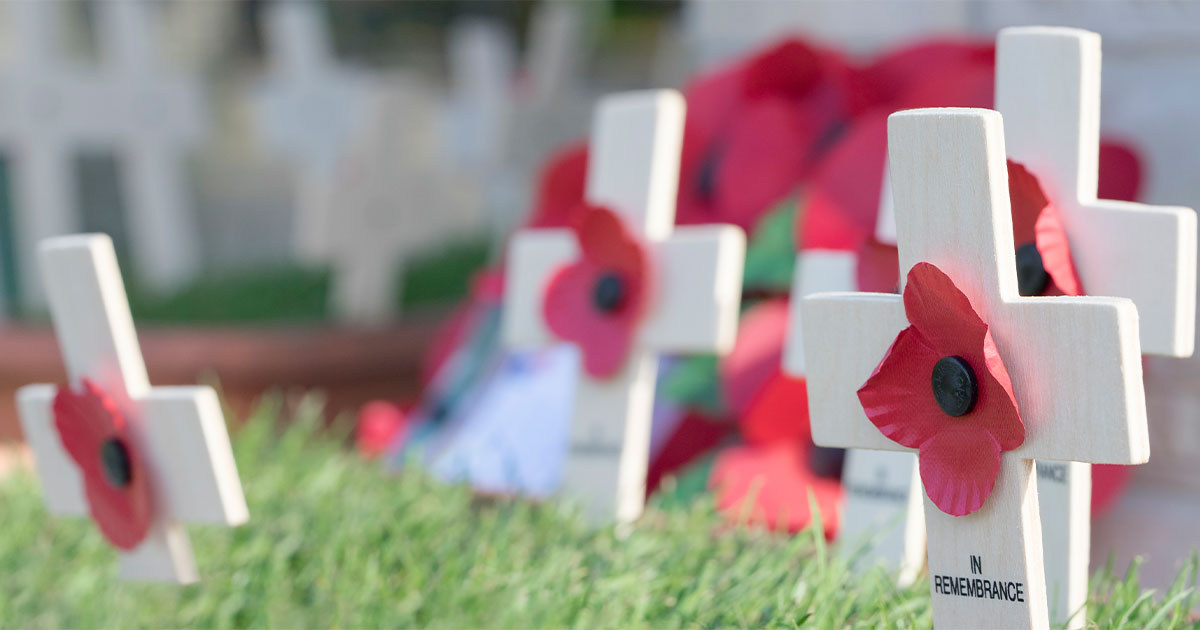 Taking place every November 11th, Remembrance Day commemorates more than 61,000 Canadians who died in World War I. There were three key battles with significant losses – the Battle of Ypres in 1915, the Battle of Vimy Ridge in 1917, and the Battle of Passchendaele in 1917. These crucial battles led to Allied victory and the emergence of Canada as a nation.
Albertans were quick to volunteer for war efforts
Alberta was just nine years old at the start of the First World War and had a population 496,000 by 1916. Given Alberta's small population and how new it was, Albertans made an unexpected contribution to the war effort.
Albertans eagerly volunteered for military service within the first few days of the start of the war. According to albertahistoricplaces.com, "Alberta supported the Canadian Expeditionary Force, including 180 cavalrymen from the 19th Alberta Dragoons, more than 400 from the Princess Patricia's Canadian Light Infantry, 900 members from the 101st Edmonton Militia Regiment, and more than 300 hundred men from the 103rd Calgary Rifles Regiment. By 1916, 24 battalions had been raised in Alberta, consisting of approximately 1,000 men each."
When the soldiers reached the trenches, it quickly became clear that they were inadequately trained and their weapons, particularly the Ross Rifle, were not suited for trench warfare. They suffered deplorable conditions like disease, mud, rain, and vermin, and witnessed the deaths of their colleagues. Albertans fought alongside their fellow Canadians even after recruitment became a challenge by 1917. Prime Minister Robert Borden started mandatory enlistment on August 28, 1917 and 26,000 Albertans went to Europe.

Alberta women joined the war effort
Alberta women also joined the war effort, many as nurses who endured the same horrific conditions as the soldiers. Known as Bluebirds because of the color of their uniforms, and later as "Sisters" and "Angels of Mercy," Canadian nurses were commended for their compassion and heroism. Ten Edmonton nurses went abroad and 9 women received training as nurses through the Voluntary Aid Detachment. Madaleine Jaffray, who would later become an Alberta resident, was recruited by the Red Cross and served in the French Flag Nursing Corp. She was the first Canadian woman to receive the Croix de Guerre, a French Military medal.
Alberta women also contributed in many other ways. According to albertahistoricplaces.com, "Notably, there was an increased female presence in civil society and the Alberta suffragist movement emerged. The efforts displayed by women during the Great War are remembered for the impact that they have had on women's history in Canada."
Albertans were at the forefront of battle
Albertans were at the forefront throughout significant conflicts until the liberation of Mons, Belgium. Armistice was declared on November 11, 1918, finally bringing the war to its conclusion. Approximately 6,140 Albertan men were killed, 20,000 injured, and one in eight who enlisted never returned. 250 men from Gleichen were deployed with one in five losing their lives and Edmonton's 49th battalion had around 1,000 losses. Life in Alberta was affected by the human toll and social impact for generations.
The Royal Canadian Legion points out that "in today's fast-paced world, it can be easy to take our way of life for granted and forget what so many men and women sacrificed for our freedoms." This Remembrance Day, take a moment to honour the sacrifices of Albertans who helped make our way of life today possible.