Western Communities Foundation building Canadian communities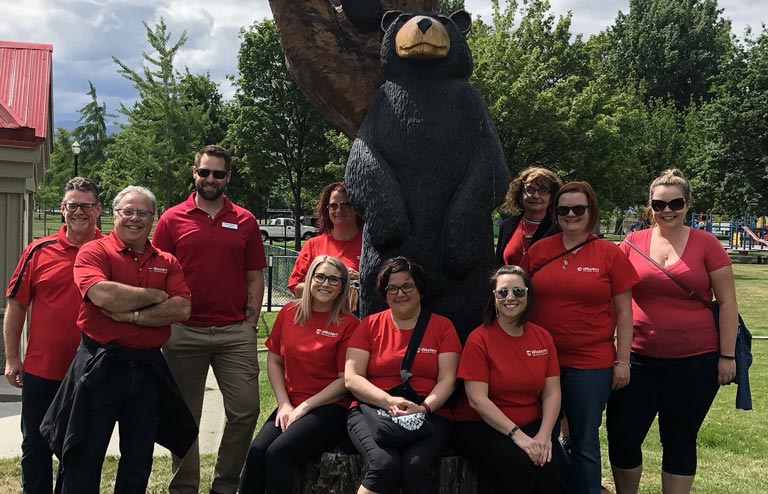 The Western Communities Foundation (WCF) is thrilled to announce 2018 was a banner year with over $300,000 in grants and bursaries being awarded.
The WCF presented 20 infrastructure grants ($5,000 each) across Western Financial Group's broker network. Leaders thanked employees and supporters after surpassing $3.1 million raised since 2002.
Funds from the annual Support the Cause walk, Fall Classic Golf Tournament and other events are given back via student bursaries, grant funding and infrastructure improvements.
Western Financial Group's charitable arm, the WCF, funds projects supporting public health, public housing, education and recreation where Western operates and, in many cases, employees live, work and play.
"Every donation, large or small, builds our communities" Laurette LaPlante, director for the registered charity, said. "We're so pleased to be able to give back. Thank you to our partners and sponsors."
2018 Infrastructure Grant Recipients:
Alberta:
Bow Island – Building a solarium onto the municipal library
Hanna – Upgrading town's outdoor ice rinks
Medicine Hat Downtown – HALO, purchasing a platform dolly to move the helicopter
Morrin – Contribution toward new turnout gear for the village fire department
Peace River – Peace River SPCA, expanding facility
British Columbia:
Aulds Road – Island Crisis Care Society, expanding Samaritan House
Broadmoor – Richmond Fire Hall #1, Contribution toward constructing a new fire hall
Cranbrook (Cranbrook Street) – Contribution toward building an indoor sports facility
Creston – Creston Valley Trails Society – Creating a riverside park along Goat River
Fort St. John – Purchasing specialized equipment for hospital foundation
Golden – Hospital/EK Foundation for Health, upgrading facility
Victoria - Help Fill a Dream, Improving and upgrading current office equipment
Richmond Centre – Constructing a new playground at Grauer Elementary School
Sidney – Sidney Elementary School, Building a multigenerational outdoor activity centre
Tillicum – Upgrading Discovery School Playground
West Broadway – Moving Sunny Hill Health Centre for Children to Oak Street campus
Williams Lake – Gavin Lake Community Education Society, Building canoe storage building
Manitoba:
Gilbert Plains – New equipment at the recreation complex
Souris – Refurbishing Crescent Avenue, road project
Saskatchewan:
Estevan – Estevan Humane Society, constructing a new facility
Western Communities Foundation
Founded in 2002, the Western Communities Foundation gives back to the communities where Western employees live and work and fosters employee pride and engagement. The Foundation's core donation programs include community Infrastructure Grants, the Western Inspirational Award for graduating high school students and community projects through our grant opportunities. Since its inception, the Western Communities Foundation has raised more than $3.1 million to support local communities.
Western Financial Group Inc.
Western, a diversified insurance services company, is focused on creating security and has provided over one million Canadians the right protection for more than 100 years. Headquartered in High River, Alberta, Western provides personal and business insurance services through 179 locations, its affiliates and a variety of connected channels, with an engaged team of approximately 1,800 people. Western is a subsidiary of Trimont Financial Ltd., a subsidiary of The Wawanesa Mutual Insurance Company.
Information (for journalists only):
Kevin Rushworth
Communication Leader
Western Financial Group
1-866-843-9378 ext - 508
kevin.rushworth@westernfg.ca