Western Direct Insurance Quote 4 Cures Campaign Raises $27,500
Annual campaign supports the Canadian Cancer Society and the fight against women's cancers
Calgary – The partnership between Western Direct Insurance and the Canadian Cancer Society continues to produce overwhelming results.
The second annual Quote 4 Cures campaign raised $27,500 in the fight back against women's cancers. For every car or home insurance quote completed in October, Western Direct Insurance donated $10 to the Canadian Cancer Society.
"At Western Direct Insurance, we believe cancer is everyone's business – and we're thrilled to see that Albertans supported our program," says Jeff Burke, President of Western Financial Group which offers the Western Direct Insurance product. "Every single person who completed an insurance quote online, over the phone or in person last month helped us make a significant impact in the fight against women's cancers."
Western Direct Insurance's Quote 4 Cures campaign coincided with Women's Cancer Health Awareness Month, during which the Society raised awareness of breast, cervical, melanoma and colorectal cancers. Combined, these four cancers account for more than 40 per cent of new cancer cases in women.
Money raised through Quote 4 Cures supports Society-funded research into women's cancers. Furthermore, the campaign served as an important reminder for women to speak with their doctors about screening and early detection – two of the most important tools in the fight against cancer. In most cases, catching cancer in its early stages is the key to successfully beating it.
"Nearly half of all Canadian women will be diagnosed with cancer," says Tiffany Kraus, External Engagement Lead with the Canadian Cancer Society. "Thanks to the support of Western Direct Insurance campaign and all Albertans who participated in Quote 4 Cures, the Society will be able to make great strides in the fight against women's cancer as well as offer crucial support to women living with cancer."
Western Direct Insurance has raised $52,500 through Quote 4 Cures since launching the campaign in 2012.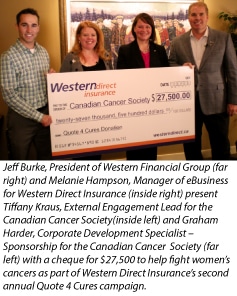 About Western Direct Insurance

Western Direct Insurance offers home, condo and tenant insurance in Alberta, British Columbia, Saskatchewan, Manitoba and the Northwest Territories. In British Columbia, the products are offered under Western Direct Insurance Agency. Western Direct Insurance also provides car, motorcycle and recreational vehicle insurance for residents in Alberta and the Northwest Territories. Western Direct Insurance products are offered through Western Financial Group, a diversified insurance services company that serves more than 790,000 customers across Western Canada. Want to know more about Western Direct Insurance? Visit our website at westerndirect.ca.
About the Canadian Cancer Society
For 75 years, the Canadian Cancer Society has been with Canadians in the fight for life. We have been relentless in our commitment to prevent cancer, fund research and support Canadians touched by cancer. We are working together with Canadians to change cancer forever so fewer Canadians are diagnosed with the disease and more survive. When you want to know more about cancer, visit our website cancer.ca or call our toll-free bilingual Cancer Information Service at 1-888-939-3333 (TTY: 1-866-786-3934).
For more information or to arrange an interview, please contact:
Paula Trotter, Communications Coordinator
Canadian Cancer Society, Alberta/NWT Division
paula.trotter@cancer.ab.ca| 403-541-2339
Rod Cunniam, Vice President
Western Direct Insurance
answers@westerndirect.ca| 403-652-2663, ext. 477