Western Financial Group Promotes Accessibility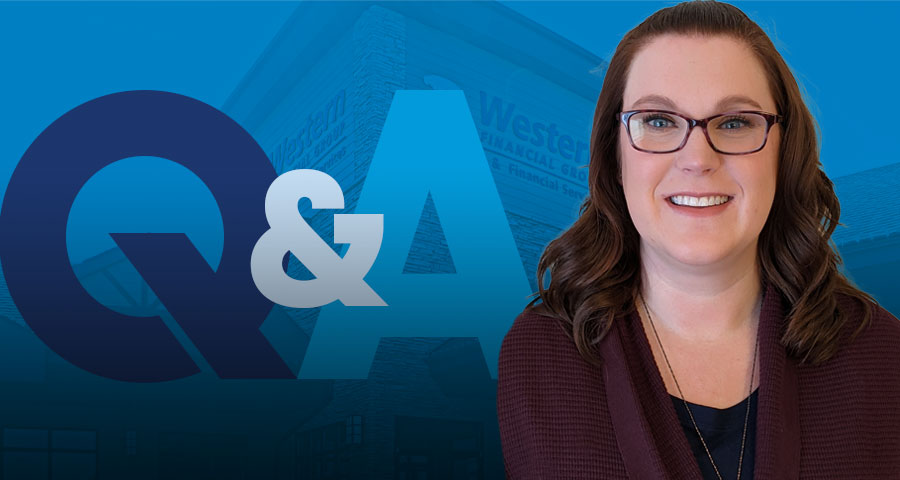 The annual National AccessAbility Week in Canada is from May 29 to June 4. It is a time to promote accessibility and inclusion as well as celebrate the contributions of persons with disabilities in the communities where they live, work, learn, and play.
Western's Kaitlyn Bridge, Director, HR Business Partners, talks about how Western promotes accessibility and supports needed for employees.
Q: How does Western's culture promote accessibility?
A: Western's culture promotes acceptance and accessibility for all. We have an Accessibility policy to which we tightly adhere, which is posted both on our internal intranet, and on our external website. We provide support for both our employees and customers as needed.
Q: Would my disability hinder me from working at Western?
A: Western is happy to confirm that we will work with any candidate or employee to ensure their disability does not hinder them from working at Western. We provide aids or support needed, as well as covering any costs associated with their procurement or implementation.
Q: What kinds of accommodations could Western make for me?
A: We will work with any candidate or employee to ensure that all accommodations that are needed are provided whenever possible. Current and past employees have been provided items as needed, including increased spacing or ramps for wheelchair access, visual aids for computer usage, sit/stand options, and ergonomic assessments.
Q: What is the physical environment like when working at Western?
A: Western's physical environment is an indoor, sit/stand office set up. Some roles allow for remote work set ups.
Q: How much do I need to disclose about my disability? Would that be during recruitment or after I am hired?
A: We do not require any candidates or employees to disclose a disability at any point. Should someone require additional support or accommodation, we encourage them to us of the need supporting their request. Their request can be dealt with at a level of comfort set by the employee/candidate, and discussed with our HR department directly if preferred. We are here to support as best we can with the information we are provided.
We also asked two Winnipeg-based, employment services organizations, Opportunities for Employment and Reaching E-Quality Employment Services (REES), about supports for employees and employees' expectations for accessibility.
Employer liaison Brenda McDonald of the Winnipeg-based Opportunities for Employment (OFE) discusses supports for employees.
Q: How will an employee know that their employer will support their needs?
A: During the employment process from recruiting to signing the offer, the employer should use inclusive language, making it clear that the workplace adheres to accessibility standards but also wants to go above and beyond based on employee experiences.
As the employer, describe accommodations that have been requested in the past to contribute to successful employment during the onboarding process.
If person discloses a disability that may require accommodation, don't fill out a form or give them a checklist. Sit down and have a conversation. Talk them through their work day to determine if there are any gaps or challenges that can be accommodated. Check in intentionally, regularly. Don't make it about how to "Survive" in this job, but how to thrive.
Q: Can flexible work hours be part of accessibility?
A: If someone struggles with mental health and is experiencing side effects from trying to find the correct dosage, allow for flexible work hours without changing expectations of work. If hand-transit has limited hours and general public transit is unsafe or not an option, work from home can be an option.
Employment counsellor and Co-op coordinator Sergio Sousa of Winnipeg's Reaching E-Quality Employment Services (REES) outlines some of the expectations employees would have. REES is a dedicated employment services provider specifically serving only persons with physical disabilities and/or health conditions.
A clear point of contact to go to for support, whether that be a committee, or a supervisor, and that there are processes are in place regarding accommodation requests.
A willingness on the part of the employer to have open communication regarding Accessibility and Inclusion for people with disabilities and/or health conditions.
An employer to respond to accommodation requests in a timely and supportive manner.
An awareness of disability with a focus on ability.
The employer to recognize that the job can be done effectively with the accommodations provided.
Is the workplace and/or workspace accessible? This would include: Desk, computer equipment (visually/physically), egress into the building as well as through-out the building (bathrooms, hallways, doors (interior as well as entrance with opener button), counters, lighting and emergency evacuation plan that includes accommodations.