Western Financial Group honours FAIMS partnership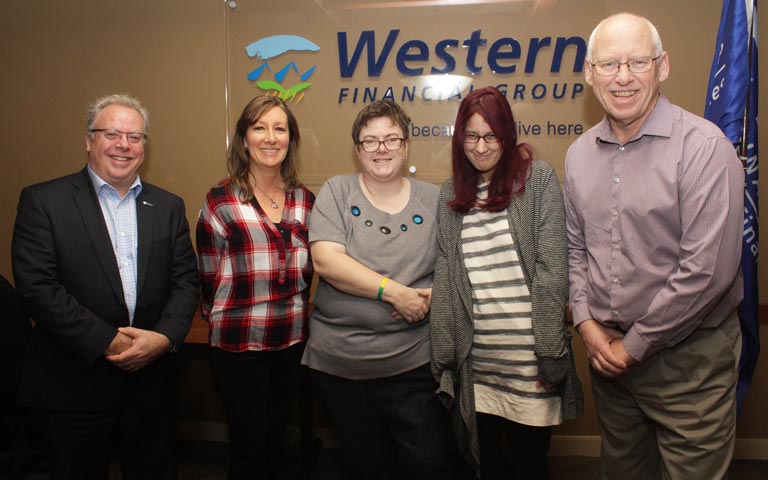 As an employer with the Foothills Advocacy in Motion Society (FAIMS), our Western team has helped the non-profit make a difference for adults with developmental disabilities for 22 years. Guided by its vision for nearly four decades, FAIMS shows that all people have the capability to find gainful employment if they're provided an opportunity to show their abilities and talents.
This organization helps people enter the workforce in High River, Okotoks and Strathmore. A familiar face at Western is FAIMS client Kelly Sexsmith. Kelly has worked at our High River corporate office once a week for five years and is assisted in her role by Joan Born, her FAIMS job coach.
"I like working at Western Financial Group because it is a fun place to be," Kelly said. "People know me and say hi to me. I know a few people like Barb, Bart and Karen. I like this job and working each Wednesday."
Kenny Nicholls, Western's president and CEO, said the connection with FAIMS started at the former Hi-Alta Capital insurance office in 1996.
"Our Western organization supports the health of our communities," he said. "A big part of that means equal employment opportunities for everyone and accepting people for who they are."
Gerry McCallum, FAIMS Executive Director, said Kelly has met many people through her position. He said she dresses up for work, enjoys greeting people and has an excellent memory for faces. A person's career or job can add great value to their life, McCallum explained. Unfortunately, he said people with developmental disabilities do not always get the same opportunities for employment.
"It's important that Kelly works at Western just as it's important that I work here," McCallum said.
Kelly's tasks include stamping invoices, filling humidifiers with water, dusting frames, disinfecting door knobs, cleaning the glass, cleaning kitchens and taking the recycling from individual offices. McCallum said Western team members also receive further awareness about people with disabilities. He added he's seen FAIMS clients congratulating each other when they gain employment.
"People are cheering, clapping," he said, noting there is pride in working.
McCallum said Kelly participated in the Support the Cause walk for the Western Communities Foundation a few years ago. In April 2018, Kelly received a clock as her five-year employment gift. Western also connects with FAIMS for recycling pick-up. The team is comprised of client Makayla Dyck and a job coach. This involvement is, once again, another longstanding partnership.
"Most companies gain more than they give when they hire a person with a disability," McCallum said, sharing stories of kindness, humour and resoluteness. "It's a great thing to experience."