Western cheers on Kootenay Rockies Gran Fondo racers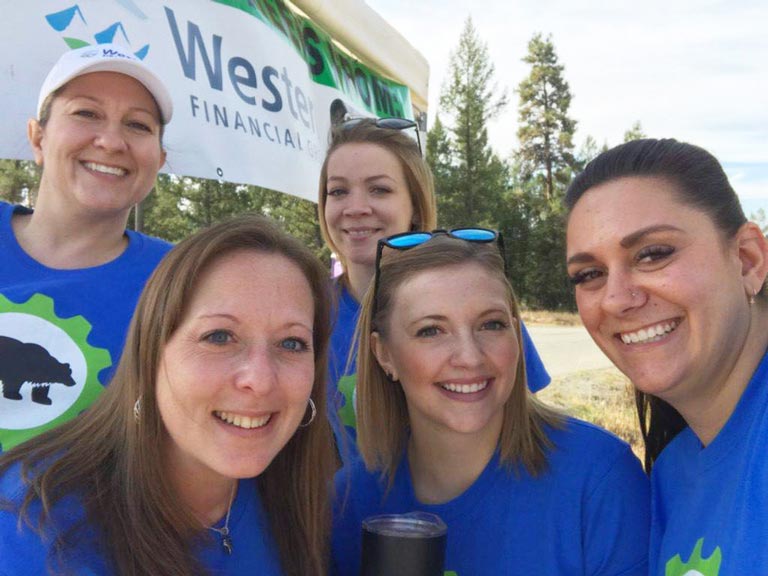 International and local competitors traveled to Cranbrook for the 2018 Kootenay Rockies Gran Fondo on Sept. 8 and Western's Baker Street branch team was excited to gear up for participant support. The bike race kicked off at the St. Eugene Golf Resort and Casino and registrants, once again, either pedaled 152 kilometres (Gran Fondo), 102 kilometres (Medio Fondo) or 58 kilometres (Piccolo Fondo).
Sarah Vanlerberg, branch manager, said Western was proud to be a major supporter of the bike race and shared that the important sponsorship dates back to 2013.
"It shows that (Western helps) the communities in which we live," she said, noting her team assisted racers at the final two aid stations. "We support the communities and we're here to help."
Vanlerberg said her team communicated with the riders at the aid stations, refilled water bottles, contacted emergency crews or bike repair specialists and provided food for participants. She said the race is important for the region and that team members from Western and Cunningham Lindsey adjustors were happy to cheer on participants.
"We want to support that and see this event keep going year after year," she said.
Having previously supported the race, Vanlerberg said she has started to recognize racers and enjoys interacting with the participants, hearing their stories and assisting them during the race. The Kootenay Rockies Gran Fondo is an opportunity to further serve the Cranbrook community. It also offers another chance for Western's Baker Street branch to come together as a team.
"(Many) of our clients who come to us for their insurance needs, they see us out there helping," Vanlerberg said. "They get to see us more on a personal level than on a business level."
Pete Stefano, commercial sales manager at the Baker Street branch, organized Western's title sponsorship of the first Kootenay Rockies Gran Fondo race in 2013.
"We hosted registration at Western Financial Place and gave away bicycle repair kits to every registrant," he said, noting this was all done to further build community spirit.
Being involved in the Cranbrook area was and remains key to this day, Stefano said. Sponsoring events and volunteering at them shows people that Western has a close community connection, he said. Stefano remembered the vibe from the first year the race was held.
"It was something new and the volunteers and organizing committee did such a fantastic job," he said, noting that everything was tied to Western. "You could feel the energy."