Western cheers on the 'Best' family ahead of first game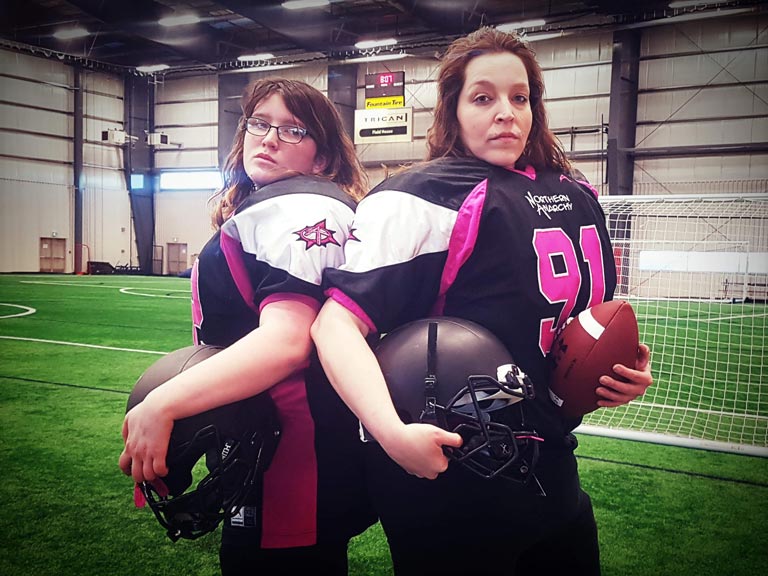 From left to right are Quinn and Kathy Best. Kathy is a client care associate at the Western Beaverlodge registries
Our Western Beaverlodge office has football fever — we're cheering loud for our own Kathy Best and daughter Quinn, 16, who are tackling the full contact sport in the largest women's league in Canada.
Kathy provides excellent service as a client care associate at our registries — our Western team and clients are excited as the pair storm their first season on Grande Prairie's Northern Anarchy team.
Training heats up in the Western Women's Canadian Football League (WWCFL), as mother and daughter practice for their first ever game on May 4 — when they hit the road to challenge the Calgary Rage.
"I wasn't really prepared when I encouraged (Quinn) to try something new, that she would turn my sage advice and tell me (the same thing), so here we are," Kathy, who mostly plays defensive tackle, said.
Kathy said the Northern Anarchy team is empowering. It's comprised of great players from diverse backgrounds. Teamwork, she said, is about developing as a unit and working toward a common goal.
Football isn't new in the family — Quinn's younger brothers play. Kathy said they often threw the ball together in the front yard. Yet, being on the gridiron with Quinn is something else entirely.
"To have something to do together at the ages and stages we're at is amazing," Kathy said.
The two were recently featured in Grande Prairie's Daily Herald Tribune. Within Beaverlodge, they have received awesome buzz following their newspaper profile — some customers are going all out.
Longtime clients, whom Kathy has served for seven years, will be at their game in Grande Prairie on May 25 — you guessed it, they'll be decked out in Northern Anarchy wear.
As game one approaches, Kathy knows how she'll feel playing on the same line with Quinn.
"I'll have a feeling of pride more than I can probably contain," she said.
We are always proud of our Western Financial Group team members and are excited to spotlight stories that reflect our diversity and involvement in the communities in which we live and work.