Western's Coleman team propels soapbox race derby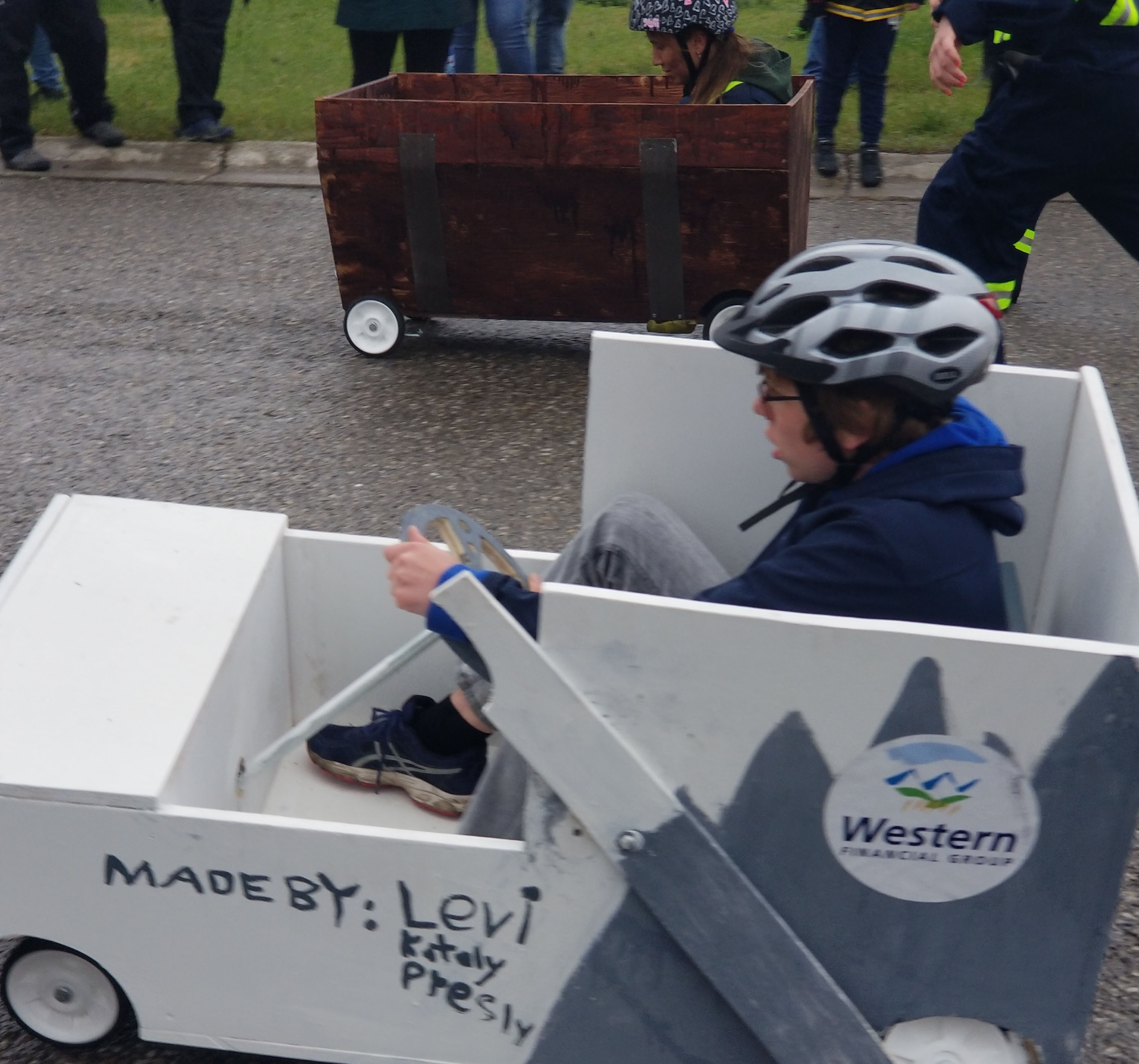 The energy and drive behind soapbox racing captured imaginations in the Crowsnest Pass, with our Coleman brokers sponsoring a vehicle in the Bellecrest Days derby and cheering on the kids who built it.
It took weeks of work constructing the vehicles at Isabelle Sellon School (ISS) — a hands-on math and science lesson — and on the big day, no rain could stop these youth from racing and having fun.
For safety reasons, the Municipality of Crowsnest Pass closed off a road for the races. Hay bales were positioned along the gentle grade hill and the eager participants, focused on the road ahead, pushed off.
Terri Davis, Western insurance advisor, said the Coleman branch enjoys supporting their community. Brokers became involved when Davis' daughter Presley returned from class ecstatic about the project.
Construction time was allotted on Fridays at school — the community rallied around the racers with adult volunteers assisting. The kids were even allowed to use some power tools, under proper supervision.
The team that built and ultimately donned helmets and piloted the Western Financial Group racer against other competitors was comprised of Grade 6 students Presley, Kataly and Levi.
"The best part of working on the soapbox car was building the cardboard box model, painting the vehicle and making the blueprints for it," Presley said.
Even though she may have been peeking through her fingers — this being her daughter's first soapbox race — Davis was excited to see the kids laughing and having a good time surrounding by spectators.
"The kids were all geared up and dripping wet," she said. "They ran and helped each other out, fixing cars after each race all with big smiles on their faces. They'll remember this day for a very long time."
Ian Crawford, a math and science teacher at ISS, said the project helped the students conceptualize their classroom skills by applying them outside school. To do so, support from partners was key, he said.
"It says a lot about how fantastic the support is from small towns, from Western Financial Group, and other organizations and businesses here in the Crowsnest Pass," Crawford said.
While these were the inaugural soapbox derby races for Bellecrest Days, he added the cars will likely be running on the road during events for years to come — forming a legacy for future generations.
After entering the festival parade, the derby vehicles received the first-place award.