Western's Fort St. John drive-thru boosts customer care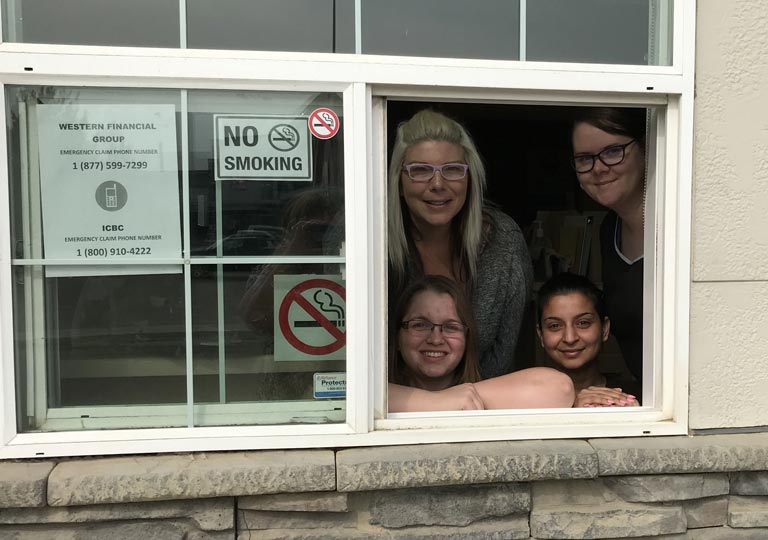 Clockwise from top left are Dana, Kaylyn, Mani and Madeleine
Oct 10, 2019. Our Western Financial Group insurance branch at 9508 93 Avenue in Fort St. John, BC, lifts customer service to the next level with our Drive Thru — keeping people coming back again and again.
The streamlined service has operated for nearly 13 years with two Drive Thru windows to strengthen our client experience. Our team is also available in office Monday to Friday 9 a.m. to 6 p.m.
Wanda Erickson, branch manager, said the Drive Thru location is one of the busiest ICBC offices in the province, yet also serves home, farm, renter's, RV, travel medical, life policies etc., as a one-stop shop.
"We value our clients and make their insurance transactions as convenient as possible with our hours and service," she said, adding all are welcome to visit them in-branch or be assisted in their vehicles.
The Drive Thru is especially helpful for seniors and people with mobility issues. As well, our people even have treats for dogs who travel with their owners — one couple brought their cat to the window.
At this location, ease of use reigns supreme for people of all ages.
Convenient service means busy professionals, parents with their children and oilfield workers arriving later into the evening leave with the right information and documents in hand.
In times of crisis, our team ramps up dedication. In years past, when Fort St. John experienced nearby forest fires, customers needed to insure their vehicles to move them from the evacuation zone.
The Drive Thru and office stayed open late to help as many people as possible.
"We are normally Drive Thru only from 6 p.m. to 8 p.m., yet there were just too many people who were stressed and needed our help," Erickson said. "The team really showed how caring they are."
All our Fort St. John team members are superstars, with some working the Drive Thru for seven years.
"It is truly about convenience not speed," she said. "We want to make sure everyone has proper coverage. You have options, drive up or come inside; you'll get the same service."
The Drive Thru is open Monday to Friday, 9 a.m to 8 p.m., Saturday, 9 a.m. to 6 p.m. and Sunday, 11 a.m. to 5 p.m. Drive thru only service starts at 6 p.m. each evening Monday through Friday and on Saturdays and Sundays.