Western shares joyous holiday season with communities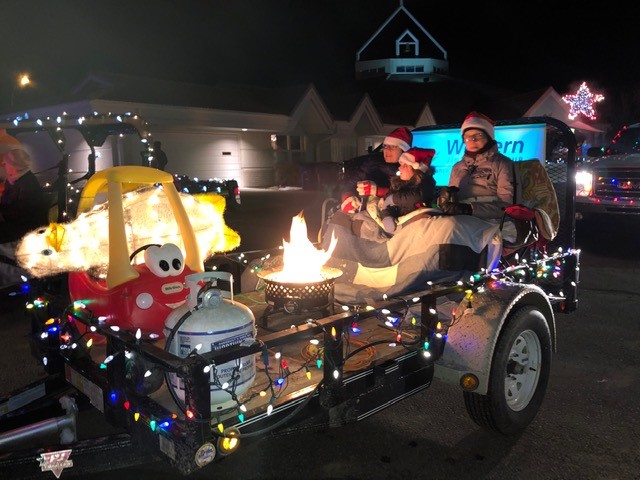 Our Western Financial Group parade float in Shaunavon
At Western Financial Group, we hear those sleigh bells jingling — ring ting tingling too. From winter wonderland scenes to charitable givebacks across Canada, our branch teams throughout British Columbia, Alberta, Saskatchewan, Manitoba and Ontario extend our hands in service to the community.
We're excited to fill the communities we serve with joy during the holidays, starting with twinkling lights, helping people in need — adopt a family campaigns and food hampers — among other initiatives.
British Columbia
Our Western Financial Group team excited to partake in the Henny Sharing Tree event
Terrace
A tradition for 45 years, we're grateful to have the opportunity to join Terrace residents to support people in need via the Henny Sharing Tree. We will always remember Henny Ebeling, a long-time resident who orchestrated buying gifts at the CFTK radio and TV station to give people a hand up.
Upon her passing in 2008, the Sharing Tree was renamed Henny's Sharing Tree to celebrate a life of tremendous charitable service. Our Western Terrace branch was thrilled to present boxes filled with food and gift donations to the Salvation Army for distribution in town and the Kitimat area.
Vivian Raposo, Western's branch manager, knew one of her favourite moments.
"It's so fun when the little kids come in to make a donation," she said. "They are always giddy with excitement to be able to leave a cool gift for someone who does not have much."
Alberta
Medicine Hat
Our brokers supported the Adopt a Family program at the Medicine Hat Women's Shelter. Our team from our downtown brokerage and newest location in the city's southeast 'adopted' a mother and her three teenagers.
Next step? Purchasing gifts and items for their holiday season.
"If you can make residents' lives a little brighter, it makes us feel really good," Tracey Arcand, branch manager, said.
Okotoks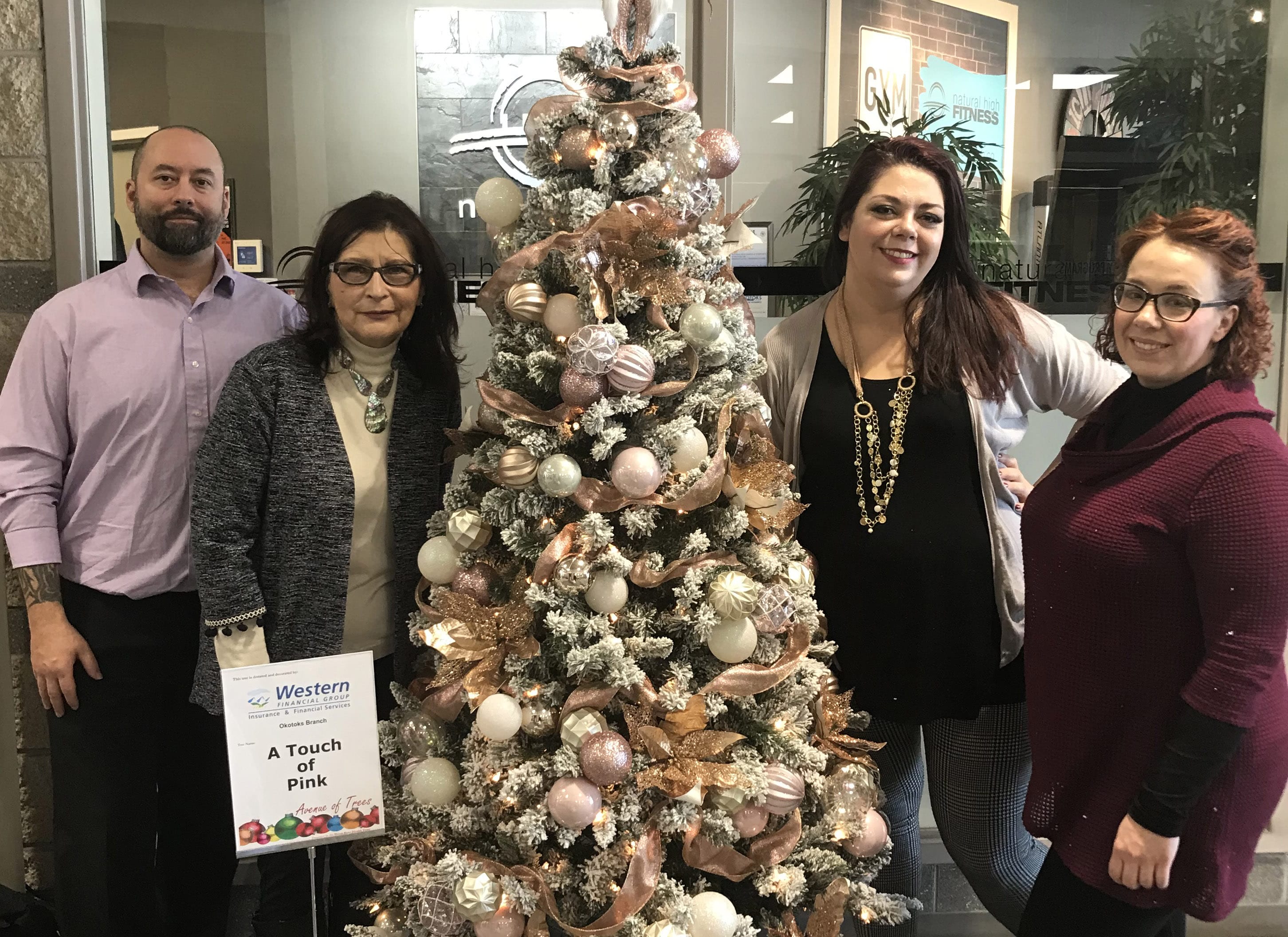 Our Okotoks team decorated their "A Touch of Pink" tree for the Avenue of Trees event.
The holiday season in Okotoks kicked off on November 15 with the popular light up. A warm evening — generally unheard of — Elizabeth Street never looked better with residents and guests out in droves.
Giving back year-round is vital, yet efforts during the holidays bring us even closer to the Okotoks community we serve. As always, Western sponsored the fireworks — always a favourite.
"Everyone stops everything to watch them," Melissa Rioux, manager, said.
Another popular holiday tradition, the Avenue of Trees, supports the Sheep River Health Trust. Teams, including Western, purchased and decorated trees with proceeds supporting health initiatives.
Knowing these trees would be displayed at the Okotoks Recreational Centre and auctioned off to the highest bidder, we were excited to start. Time off? Some of our team used it to perfect the tree.
"It is important for us to support the Sheep River Health Trust because they help programs that improve the health and wellness of residents in our community," she said.
Red Deer
Consistently driven by a passion to give back, our brokers eagerly spent a day volunteering at the Red Deer Mustard Seed. We donated the meal and enjoyed another opportunity to ensure all community members received a hot meal this holiday season.
Saskatchewan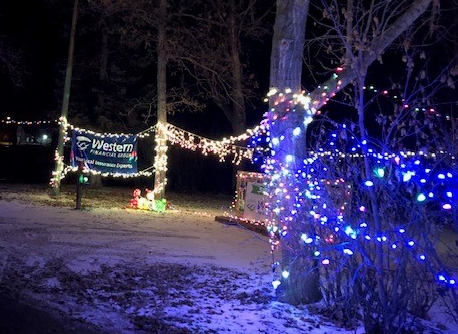 Western's campsite all done up for River Park Sparkles
Weyburn
It's no secret that Christmas lights are a time-honoured tradition. When given the chance to decorate for the first annual River Park Sparkles, presented by Weyburn Tourism, we were excited to start.
Scott Paxton, branch manager, said their sponsoring and lighting up a site showed their community dedication. Weyburn has embraced the event, which is hosted from December 2 to January 4.
"We decorated our site after hours," he said. "It was great to see our Western team come together. It was good having everyone involved in something outside of work."
Yes, discussions have already taken place how to make Western's display even better next year. For an event in its inaugural year, everything has gone exactly how it should have — it brings back memories.
For Paxton, the event brings back fond recollections of his daughter when she was little.
"Every night during the holiday season she was always wanting to go for a drive to see 'Christmas,' which to her was to go look at the Christmas lights around town," he said.
Yet, for River Park Sparkles, Western's association is exciting. Kids and families enjoying the park all lit up is, well, magical.
Gull Lake
An event with 20 years of history behind it, our Western branch continues to host the spectacular Gull Lake Old-fashioned Christmas in conjunction with local and area businesses.
This downtown shopping celebration is coupled with holiday music, touring the businesses and their delicious treats, a hay ride and tree lighting ceremony. You can't forget Western's famous chili.
Ahead of this year's event, which took place December 5, Karen Bye, insurance advisor, estimated they would meet and greet between 150 and 200 people by the end of the evening.
Shaunavon
You better believe southeastern Saskatchewan knows how to celebrate the season. We're talking about the delightful Shaunavon Chamber of Commerce Parade of Lights — did you see our Western float?
For our brokers, decorating and manning our parade entry is always a big deal. On our big night, December 5, our immense Shaunavon pride was on display.
Bobbi Fuller, our assistant manager, said volunteering in town is a big deal and a lot of fun.
"When something comes up, everyone jumps in with both feet," she said.
Our brokerage in Shaunavon has seen tremendous participation in our food drives for not one, not two, but three area groups. We're helping to build hampers for residents in need.
Next, we're supporting the food bank in Shaunavon. Finally, we're lending a hand to three food for learning programs at the elementary and high schools in our community.
Three baskets in our brokerage, each with donations for these groups, are overflowing.
Manitoba
Our locations in Brandon and Souris were among numerous Western brokers participating in the 2019 Wawanesa Toy Drive. Today, we join in celebrating our parent company as they announced 11,104 toys collected from communities across Canada and $28,393 raised for deserving charities nationwide.
These and many other stories demonstrate Western's love for caring for others in communities we serve.