Western supports Calgary Food Bank with give back day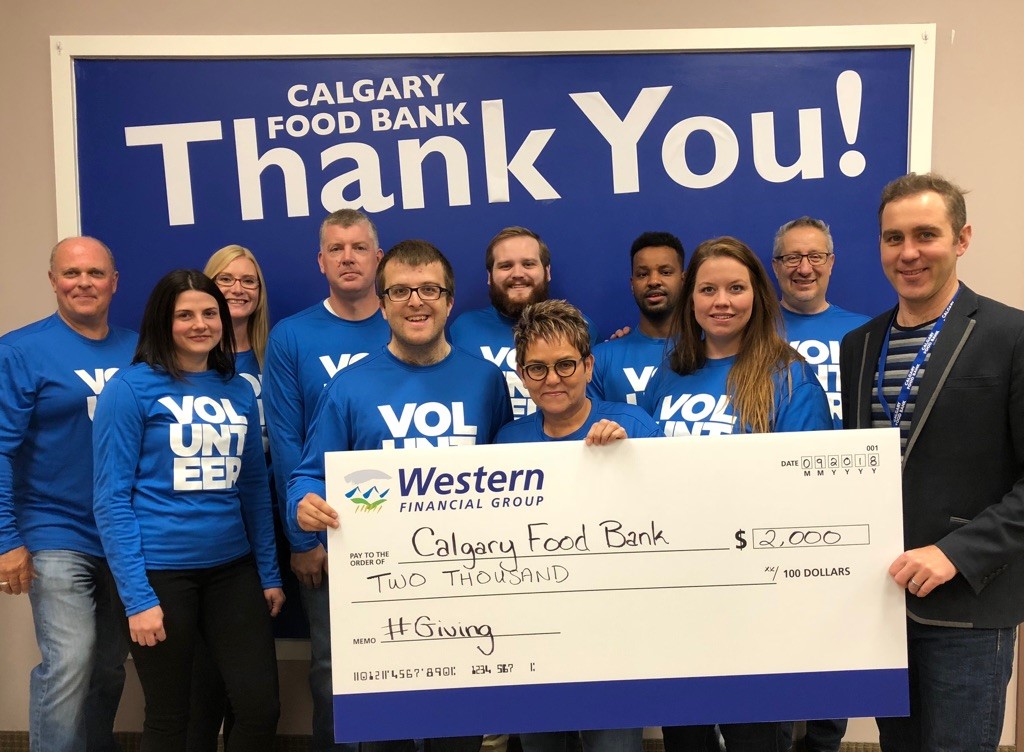 As one of the strongest and largest insurance brokerage networks in Canada, one of Western Financial Group's key pillars is volunteerism. That drive to give back thrives to this day. This tradition remains a source of pride as employees network wide continue to dedicate their time and energy to vital not-for-profit causes in communities across the country.
Western's culture of philanthropy was well represented on Sept. 19 as a volunteer crew of executives and marketing representatives worked a shift at the Calgary Food Bank. As Western's volunteers stocked shelves, sorted produce and handed out food to clients, the team gained a further appreciation for the role the food bank plays in Calgary and its surrounding area.
Between Sept. 1, 2016 to August 31, 2017, the Calgary Food Bank positively affected 184,548 lives. Some 90,864 food hampers—comprised of emergency and specialty varieties—were provided to people in need. Nearly 2.8 million pounds of food were distributed to 32 food banks in Alberta and Canada in 2017.
"The system in place at the Calgary Food Bank is like clockwork and it helps people during some of their most challenging moments," Kevin Rushworth, Western's communication leader, said.
"It was sobering to listen to the statistics and to learn how many donations it takes to lift people and their families up," he said. "Volunteers are there to assist the people who support Calgary families."
"Our Western team was honoured to be a small part of the food bank's goal of creating a hunger-free community. It takes all of us working together to challenge ongoing food insecurity."
Volunteers are the lifeblood of the Calgary Food Bank—this work does not happen without them. In fact, 1,228 volunteer groups donated 126,782 volunteer hours last year alone. The food bank welcomes 168 volunteers daily, according to Dan Ouellette, development co-ordinator.
At Western, employees continue to serve the communities and regions in which they live, work and play. One of the Western initiatives offered is the Good Heart Program. Staff across the network are provided one day a year to volunteer for a charity of their choice. It's a popular program that supports community not-for-profits across much of Canada.
Western supports its communities through volunteers and giving back is in our DNA.