Western supports Drumheller with education initiatives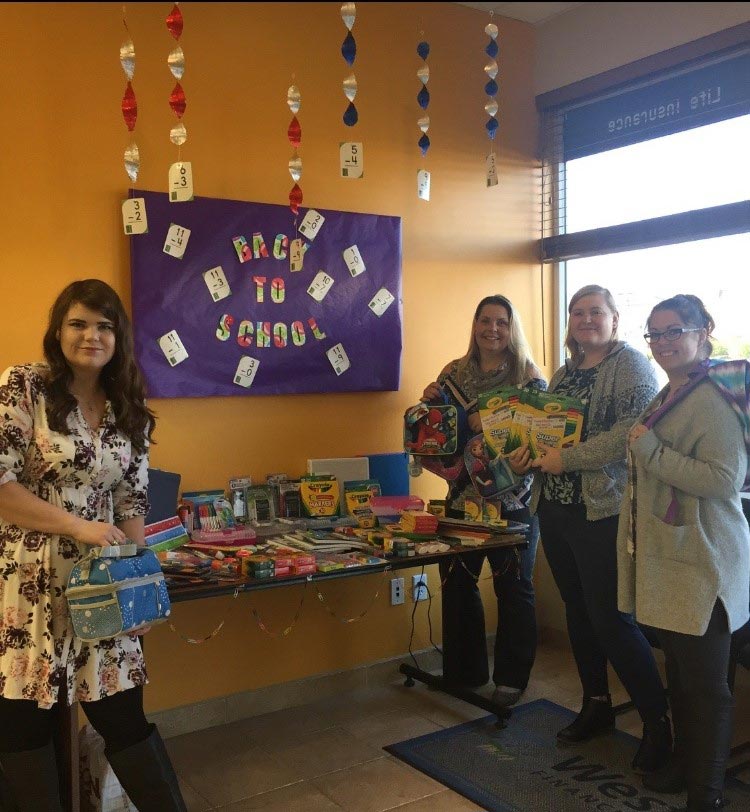 As this year's school supplies donation drive has finished, the Krayonz for Kidz campaign—hosted by Western Financial Group's Drumheller branch—will brighten students' lives as they return to school.
Physical donations were collected between August 20 and 31.
Roxanne Clark, branch manager, said her team was excited to present a large donation of school supplies to Greentree Elementary School and Saint Anthony's School.
Along with the Krayonz for Kidz campaign, the branch raised $450 through a fundraising BBQ on August 31. Profits were then matched through Western's matching grant raising the total to $900.
A further $300 was presented to the campaign on behalf of the Drumheller Kinsmen.
"We use those funds to donate to the schools' breakfast programs," Clark said.
Staff members were looking forward to the 2018 campaign after presenting seven full boxes of school supplies each to the schools in 2017, she said.
"We had people (bring in donations), whether they were insured with Western or if they were just community minded folks who were happy to get behind the cause," Clark said about year one.
This was an "overwhelming response from the community," she said.
Donated items from both campaign years included scissors, glue, pens, paper, binders, backpacks, lunch kits etc. Clark said the "sky's the limit" for Krayonz for Kidz school supplies donations.
Staff members added items as well, she said.
As Alberta has been affected by a poor economy in recent years, Clark said Drumheller families who weren't used to experiencing financial struggles were being challenged.
"(Some) kids were going without school supplies, going without snacks and lunches," she said.
The campaign was designed to ensure those students who were going without had the supplies they needed for success at school, Clark said.
The branch also collected children's books and donated them to the Drumheller Learning Society's Family Literacy program for Family Literacy Day this past January.
The team then presented $1,000 in Support the Cause funding to another Drumheller Family Literacy program that helps pay for tutors for kids and their families.
"When people think education and the support they're receiving in the community, we want Western Financial Group in Drumheller and our team to be tied to that," Clark said.
She said Drumheller supports many causes and the Krayonz for Kidz campaign is no different.
"We only want to see it grow and get bigger and better each year, so we're thankful and very grateful for the generous community of Drumheller," Clark said.