What insurance should a commercial cleaner have in Ontario?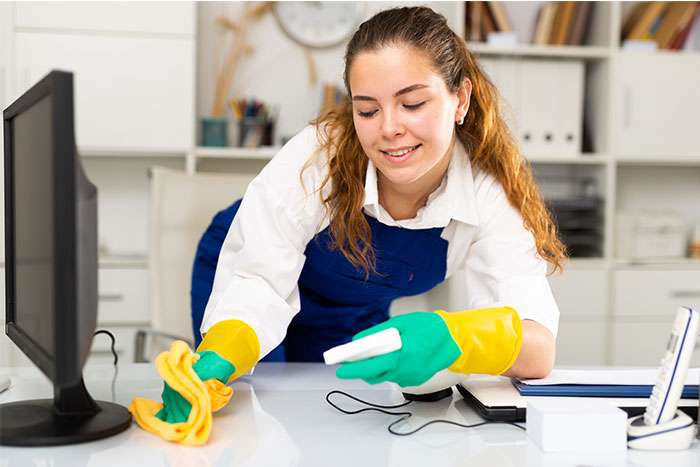 Cleaning may not seem like a particularly dangerous business, but it does have its risks. Whether you have only a few employees or many, you and your staff will be traveling to and from work, handling client property, working inside empty buildings, and walking on slippery floors. Commercial cleaners must make sure their business is protected from liability claims and other risks by having the right insurance.
Which commercial cleaners in Ontario need insurance?
Any company offering commercial cleaning services should have insurance including:
Office cleaning
Residential cleaning
Dry cleaning
Carpet cleaning
Move-out cleaning
Window cleaning
Laundry services
Apartment cleaning
House cleaning
Janitorial services
Car cleaning and detailing
Commercial general liability insurance
General liability insurance is the most important type of insurance for most businesses and commercial cleaners are no exception. Accidents can happen and you need to ensure they do not put your business and livelihood at risk. Commercial general liability insurance protects you from liability claims like bodily injury and property damage related to business activities. Someone could be injured when they slip and fall on a wet floor, an employee could damage a customer's property, or a fire could be caused by circumstances related to your business. General liability insurance covers the expenses associated with these types of accidents and many others. It pays for medical and legal expenses and for replacing damaged property.
How much general liability coverage do commercial cleaners need?
Many commercial general liability insurance policies start at $1,000,000 in coverage but every business owner should assess the risks that their business faces. It is recommended to have at least $2,000,000 in general liability coverage and some businesses need up to $5 million or $10,000,000 in coverage. If your cleaning business deals with complex projects or government contracts, you may be required by your client to have a large amount of liability coverage.
What is not covered by commercial general liability insurance?
The general liability insurance policy for your commercial cleaning business will cover many, but not all, of the risks your business faces. Policies typically exclude:
Injury to you and your staff. For this, you need workers compensation coverage, which is arranged through the province of Ontario and can be supplemented with additional coverage. It covers medical costs and lost wages if you or an employee are injured at work.
Events that cause pollution. This can be covered by adding pollution insurance to your policy. Cleaning products could cause environmental contamination or property damage and pollution insurance covers costs associated with cleanup.
Equipment breakdown insurance
If your equipment breaks down, you will lose income and have to pay for repairs. Equipment breakdown insurance covers the cost of repairing or replacing equipment if it breaks down. It also covers the cost of rentals if you need your equipment immediately and it is being repaired or replaced. Equipment breakdown insurance covers any equipment you need for your commercial cleaning business, including commercial boilers, industrial steamers, and pressurized equipment.
Commercial property insurance
Whether you have an office, laundromat, or warehouse, you should protect your space with commercial property insurance. This type of insurance covers the building and the property inside from a range of risks like fire, theft, and vandalism. With commercial property insurance, office supplies, computers, printers, furniture, cleaning supplies, and your building are covered if disaster strikes. Commercial property insurance covers the cost of repairing or replacing your business property if you experience an insured loss.
Commercial vehicle insurance
You will need to transport your cleaning equipment between job locations like offices and homes and many services like dry cleaners and laundry services offer pick up and drop off. This means that you will need commercial vehicle insurance for the cars you and your employees use for work. It protects vehicles used for business from liability claims if they are in an accident. Whether you drive your own car or lease or rent one, you will need commercial vehicle insurance when you use it for business purposes.
Speak to your Western Financial Group insurance broker
Because commercial cleaning provides a wide range of services, each commercial cleaning business has different needs. Your broker can help you determine what kind of coverage you need and in what amount so your business is covered without paying for insurance you do not need.