What insurance should an installer have in Ontario?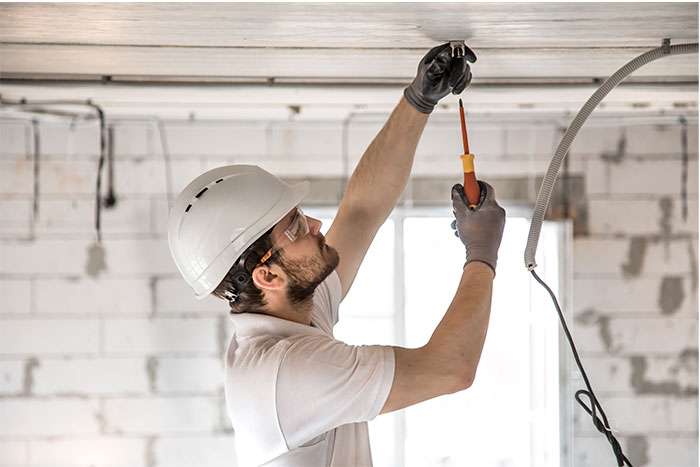 Cable and satellite installers in Ontario need to have insurance to cover them for the risks associated with their job. Installing cable and satellite can be dangerous because installers work on utility poles and roofs. Installers also have access to customers' homes, which brings liability risks. If you are an installer in Ontario, there are several types of insurance you need for making sure your business is protected.
What type of insurance should installers have in Ontario?
Installers of cable, satellite, and other appliances in Ontario commonly have three types of insurance. These kinds of coverage are important for protecting your business from accidents involving your work, employees, and work vehicles.
General liability insurance
All contractors should have general liability insurance. It protects you from liability claims related to your day-to-day business operations. If something goes wrong during an installation at a customer's home, for example, if their television or satellite setup is damaged, you could be on the hook for replacing it. Installation of underground cables can also damage sewage or electrical lines and accidents can happen at your business location.
In addition to property damage, accidents can happen in which customers or other third parties are injured. General liability insurance is a necessity for installers as it covers the cost of property damage and medical bills. Someone could file a liability claim against you, which means that, in addition to these expenses, you could be faced with legal fees. This is why having enough general liability insurance is important.
How much does appliance installer liability insurance cost?
How high your premiums will be depends on factors like the size of your business, where you are located, how much experience you have, and your past insurance claims.
Commercial vehicle insurance
Your company's vehicles must be covered by commercial vehicle insurance. This includes your car if you use it for work and any vehicles that are owned, rented, or leased by your company. Your personal car insurance policy does not cover you when you use your car for business purposes. Commercial vehicle insurance protects you from liability if there is an accident involving a vehicle you use for business and covers injuries and property damage to third parties. For example, if an employee hits a pedestrian while driving a company car, your policy would cover legal fees and the injured person's medical expenses. The cost of liability claims is increasing and it is important to have at least $2,000,000 in commercial vehicle liability coverage.
Workers' compensation
Installers in Ontario must also make sure to have workers' compensation coverage. Businesses in Canada pay into provincial workers' compensation programs and in Ontario workers' compensation coverage is provided by the Workplace Safety and Insurance Board. Your insurer can also provide additional coverage. Workers' compensation protects you and your employees if you are injured at work and covers medical costs and lost wages.
What other types of insurance should installers consider?
Ontario appliance installers should consider coverage that protects their business assets from physical damage and their bottom line if damage does occur.
Business property insurance
Business property insurance covers the property belonging to your business. It provides coverage for your business location, such as an office and all of its equipment/furniture, and for other items you use for work. Policies typically cover risks like fire, theft, natural disasters, and vandalism.
Business interruption insurance
If an event that is covered by your policy causes so much damage to your business that you are forced to close while the damage is being repaired, business interruption insurance will cover the associated costs. For example, if there is a fire and your office is destroyed, your policy will cover replacing your lost income while repairs are being completed. This type of coverage is important because expenses continue to add up even while you are unable to operate.
Inland marine insurance
Inland marine insurance covers your equipment and tools while they are being transported. Since installers must travel between locations, it is wise to have coverage for your property while it is in transport.