What is solar energy?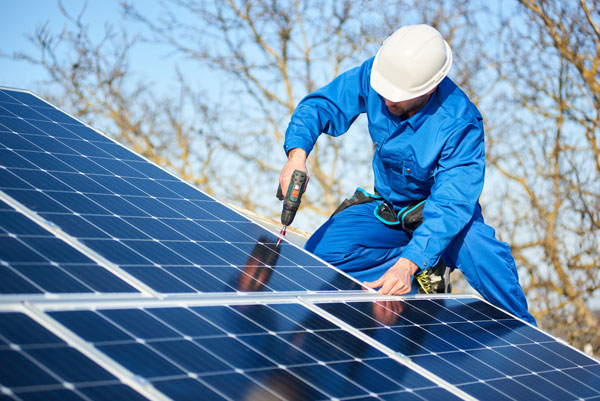 Sept. 9. 2020. Solar energy is a clean and abundant source of renewable energy. The Earth receives more energy from the Sun every hour than is needed to meet global energy demand for a year. Solar power is created when energy from the Sun is used to generate electrical or thermal energy.
Passive and active systems
Systems for capturing solar energy fall into one of two categories – active or passive. Passive systems use the sun's light or heat directly, while active systems convert solar energy into other forms like electricity or hot water.
How is solar power generated?
The two main ways of creating solar power are photovoltaics and solar thermal energy.
Photovoltaics
The photovoltaic effect is when solar energy releases electrons in semiconductors (silicon is often used) and the electrons can then power a wide range of devices. This is the technology used in solar panels.
The electric current that is generated is direct current (DC) electricity and it needs to be converted to alternating current (AC) electricity with a solar inverter because the Canadian electric grid and household appliances operate on AC power.
Solar panels can be installed on homes to cut down on electricity costs, reduce dependence on fossil fuels and even sell power back to the grid. They can also be installed in arrays for commercial uses such as providing power for industrial operations or supplying power to the grid.
Solar thermal energy
Heat from solar energy can be captured directly and used in a wide range of ways. Solar thermal energy has more uses than photovoltaics, but using photovoltaics is more practical for smaller-scale solar power generation. Three types of solar thermal energy are used – low, mid and high-temperature.
Low-temperature
Low-temperature systems heat and cool air for climate control. Buildings can be designed to allow the sun into a building when it needs heat and to keep it out when it does not. This is an example of a passive system.
Mid-temperature
Mid-temperature systems can be used to heat water by capturing heat from the sun on a building's roof and transferring it to the water in the building's plumbing so that oil or gas-powered water heaters are not needed.
High-temperature
High temperature, or concentrated solar power, systems create solar power on a large scale in solar thermal electricity plants. The sun's rays are focused by mirrors on tubes of liquid that holds heat well and the heated liquid can be used to create steam from water. The steam then turns a turbine and makes electricity. This is an example of an active system.
Solar photovoltaic and thermal energy can sometimes be generated using the same solar panel to save roof space.
Advantages and disadvantages of solar power
Solar power is abundant, clean, renewable and often quiet to produce. It is versatile and can power cities, vehicles, satellites as well as off-the-grid locations.
However, solar energy needs a battery so that power is accessible at night or on cloudy days. A great expanse of land is needed to produce it on a large scale, and the technology is expensive.
Fortunately, it is slowly becoming more affordable and more efficient and, according to National Geographic, solar power use grows by about 20% a year. Tax incentives and coordinating with energy companies make it possible for solar power to pay for itself in 10 years or less.