Teamwork and culture is important to the Future of Work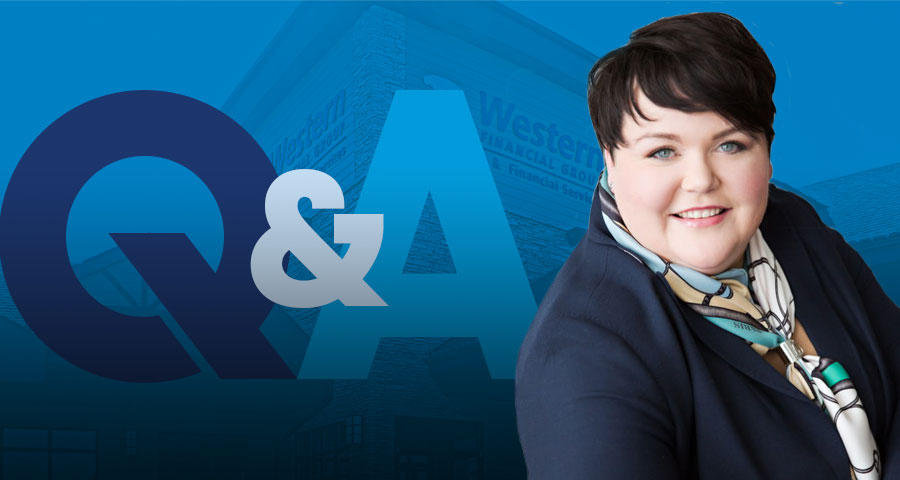 Lisa Osachoff is our Chief People & Culture Officer at Western Financial Group. Throughout her career, she has been a passionate supporter of attracting and finding talent and understanding the employee experience. As part of her role, Lisa oversees Human Resources, Internal Communication, the Western Financial Group Communities Foundation and Learning & Development.
How has COVID-19 reshaped what it means to work at Western Financial Group?
We have two employee groups that we have to consider when we look at the impact of COVID-19. First, we have our customer facing insurance experts in our physical branches. Secondly, the workforce in support services and behind the scenes. Everything changed due to the current realities with COVID-19 — safety comes first. We've kept our in-branch people safe with the proper PPE, updated them on protocols and adjusted restrictions based on various provincial health guidelines. Our Western team is very proud of the workforce that has remained customer-facing throughout this time. Caring for our people the best way we can through protective measures has been top of mind for our executive team.
At our head office and regional offices, most of our people have transitioned to working at home. Now, we're in the very early stages of understanding what the future of working at Western Financial Group post-pandemic will look like. We are taking a phased approach in looking at the Future of Work. For those individuals that have been working at home, we are looking at that cohort first. Then we do feel like there are likely impacts in our branches as well. Could we offer more flexibility, and what could that look like? We need to be thoughtful and understand the impacts of any potential decisions we make. Whatever we determine as the future of work must focus on what will deliver the best experience to our people and customers across Canada.
Will the employees who have been working at home return in a normal sense?
Our people have, essentially, had a full year at home — those who are working remotely.
We have recently launched a Future of Work survey for this group of employees. This is interesting timing as people have had a chance to understand the reality of working from home. We felt if we did a survey earlier, say last year even, it was still potentially that honeymoon period. The survey will help us assess what our people feel about work from home and return to the office. Still, the survey's real value is getting perspective on culture, communications, work processes, work enablement and team dynamics. We are very proud of the culture we have built at Western, and regardless of the direction we decide to go, we can't sacrifice those things that have helped create it. We feel that our people who are going through this experience will have great insight for us.
How has Western cared for employees and their families during this time?
We're here to support all our people wherever it is they work. As for remote working, it has brought with it many different considerations, including technology and setting people up to work comfortably from home. We've also offered flexibility for employees who care for children. Last June, we enhanced our benefits, tripling the coverage for counselling services that support employees experiencing mental health challenges. It's been important for us to help manage the stress and fatigue that the pandemic has brought to all of us. Last fall, we conducted empathy training with our leaders as COVID-19 has challenged all of us to think and lead differently. We continue to look at ways to support our people; recently, we changed our Sick time to Wellness time. This allows team members to take time in one-hour blocks as opposed to half or full days. It also offers more flexibility. We want to support our people to make the right choices for themselves and their households. All of these changes help continue to improve our employee experience at Western.
Has this pandemic sped up where the company would have been to now?
The pandemic, for most companies, has been a catalyst one way or another. At the beginning of 2020, one of my deliverables was a pilot around, 'how could we offer more remote work for our Dedicated and Support service team?' At one of our executive meetings last year, when COVID-19 changed everything in March, I said, 'well, 'we're in the pilot of remote working.' The pandemic has certainly helped us realized that essentially, yes, we can do this. It was on our radar, but the pandemic certainly sped this up significantly.
What makes collaboration, teamwork and culture important to the Future of Work?
Part of our culture has been the connections that we have to each other, working together within teams and cross-functionally. How is it that we maintain or facilitate that in this new world? Are we set up with platforms that ensure ongoing collaboration beyond this pandemic moment? The Future of Work must align with our strategic goals around customers, people, innovation and growth. As we move forward, how is it that we onboard people into the organization and give them a flavour of our culture? How do we ensure they have access to people across the organization that 'they're not running into in the hallways'? These are the important pieces that will ultimately lead to a successful execution of the Future of Work, whatever it ends up looking like.
What excites you about this new future of the workforce?
It broadens our ability to access and retain talent. Instead of people potentially having to move their families for different opportunities, this could help people we already have into other roles without making the potentially tough decisions around relocation. Relocation also has a personal cost to people, especially if they're moving to communities where they may not have a large support system of family and friends. Additionally, I'm excited about attracting external talent. The Future of Work allows us to truly consider the best experts we're looking for and not be limited by geography. Ultimately, giving people a potential choice in how they work will lead to better productivity and a better employee experience. I'm speaking about the cohort that would be able to be remote, yet, we also have to look at our frontline employees and consider ways that we can adjust and add some flexibility for them as well. They are an incredibly important part of our organization and our success.
Will applicants come to expect how they wish to work in the future?
We already saw that prior to the pandemic. Often time applicants would ask if there were opportunities to work remotely. Western Financial Group is one of the largest employers in High River, yet we also drew talent from Calgary. Not every Calgarian wanted to drive the 25 minutes — once you're at the south end of the city — to our Head Office in High River. Prior to COVID-19, we didn't really have a stance on it. That also created a certain level of inequity. It depended on which group you were in and which leader you reported to. This pandemic has enabled us to look at it and say, 'how are we going to look at this, so it allows for the best talent, delivery and productivity?' It is not to say that it will be the same, 'for everybody in all roles. We will have to look at the job function, and determine how is that best accomplished, in office, a hybrid or can it be fully remote?
Will diversity, equity and inclusion play an even further role in the Future of Work at Western?
Our diversity, equity and inclusion (DE&I) strategy and work continues to move forward as it is an important element of our evolving culture. Culture always has a foundation and then parts that grow. I like to say that culture is not a slow-cooker. You can't set it and forget it; you have to pay attention and move it forward in relevant ways for our people and our customers. DE&I is not meant to be something that's separate from the way we operate. DE&I will have a place in many decisions we make, talent being, probably, first and foremost. When we have a diverse workforce, not only in the core race, ethnicity and gender but also in other intersectionalities (abilities, experiences, culture), that broad map of talent will equate to better productivity and results overall.