Why You Should Say 'Yes' to Wedding Insurance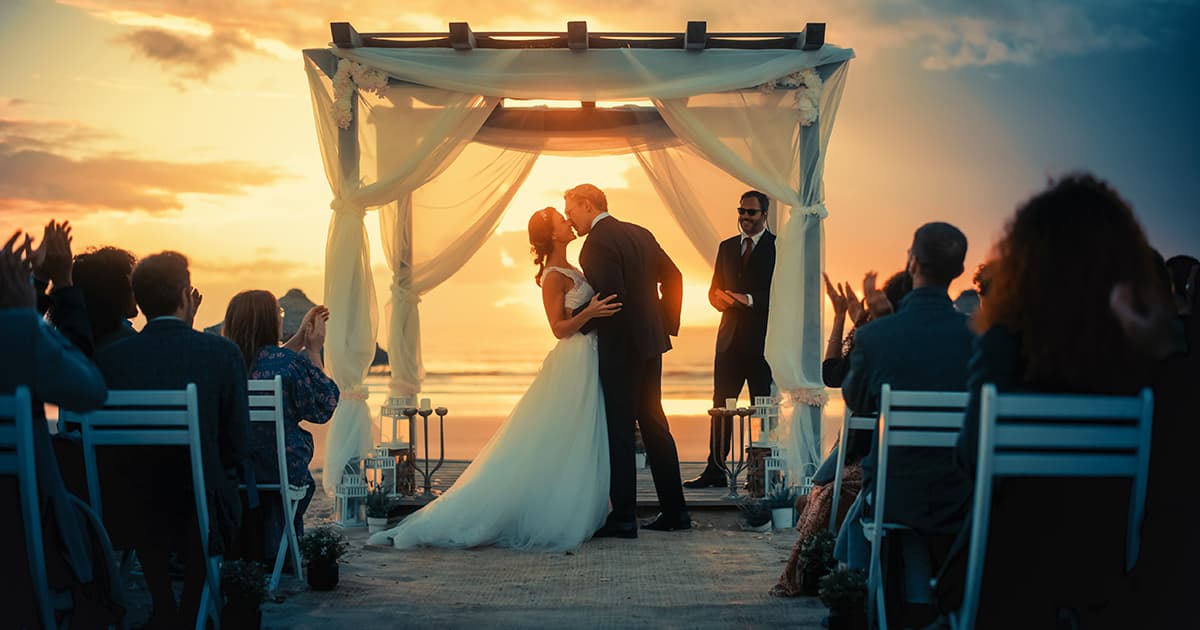 If you're going to say yes to the partner of your dreams, you should also say yes to wedding insurance to avoid any costly disasters on your big day.
Your wedding is a major investment. What would happen to your wedding investment if something went wrong? Protect your wedding day with wedding insurance.
Wedding insurance helps protect you when you say 'I do'
Event Liability Insurance
This type of insurance protects you if someone is injured or property is damaged during your wedding day. It provides coverage if you are found legally responsible should something go wrong during your reception.
It's not unusual to get event liability insurance of $2 million to protect your wedding.
PAL insurance: Your wedding venue is likely to require a Party Alcohol Liability (PAL) policy for your reception or banquet where alcohol will be served.
It provides protection against a lawsuit brought against the host of an event where liquor is served, such as a wedding. Also expect that you will need to get a valid liquor license for your event.
Speak to your Western Financial Group insurance expert about PAL coverage for your wedding.
Wedding cancellation insurance: It covers reimbursement of deposits paid or contracted to be paid because of an unexpected cancellation of your wedding.
Some situations that can be covered include issues with vendors, accidents before the wedding, extreme weather, and other extraordinary circumstances, but check with your wedding insurance expert.
This kind of insurance does not cover a change of heart by the bride or groom.
Honeymoon Cancellation: You can expect to be reimbursed if you suffer a loss of pre-paid, non-refundable cost of travel due to the cancellation of the actual wedding.
Travel insurance: The honeymoon is a big part of your wedding.
It's important to make sure that you have insurance to cover trip cancellation and medical coverage if you were to get sick or injured on your honeymoon.
Bridal attire: It provides coverage for physical loss or damage to the bridal ware once it's in your care as the insured party.
Homeowner's or renter's insurance: If your wedding gifts are being stored, find out if they are covered under your current homeowner's policy if they are stolen or destroyed.
Are you covered through your vendors? Does your caterer, photographer or the venue for your wedding reception already have insurance? If so, this will help prevent you from paying for what's already covered, and it also assures that you are fully covered with your wedding insurance policy.
What else can wedding insurance cover?
Wedding insurance can also include coverage for your wedding rings and your wedding cake.
Lost deposit coverage will pay for any non-refundable fees paid in the event that a vendor can't fulfill its obligations.
Check with your insurance expert to make sure that you have the protection that you want for your wedding.
What can impact the insurance cost of your wedding?
Every wedding is different, and every budget is different.
Your wedding date, as in the time of year, location, and the expected length of your ceremony can influence how much your wedding insurance costs.
For example, if you're planning a beach wedding you can expect to pay more for wedding insurance due to potential problems from being close to a body of water.
The number of people attending your wedding is another factor that impacts the cost of wedding insurance. The more people you invite, generally the higher your insurance will be. Whether you serve alcohol also impacts your wedding insurance rate.