Denny's Kick Butt Walk and Run supports Winnipeg cancer fight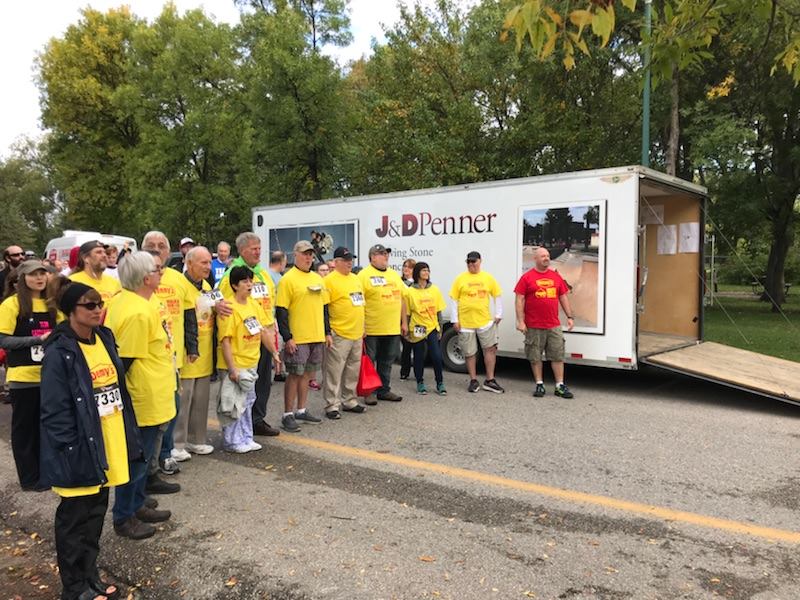 Western Financial Group continues to help kick cancer square in the butt.
The 11th annual Denny's Kick Butt Walk and Run for Colorectal Cancer started and ended in Winnipeg's Kildonan Park on Sept. 15 and Western's Empress Street branch, a sponsor, was there to assist.
"It's a great place for Western to give back to the community and help in different ways," Mike Chapnick, branch manager, said. "We're always looking for ways to get involved."
Registrants either participated in the three kilometre or five kilometre course. Approximately 250 people supported the cause and more than $25,139 was raised from the 2018 event. Mike shared that his father Sid—a stage 2 rectal cancer survivor—started the event in 2008 with other survivors. It's been 11 years, but the goal hasn't changed, Mike said.
"This walk (raises) awareness and funds for colorectal cancer in Winnipeg and Manitoba," he said.
The Canadian Cancer Society reported that 206,200 cancer diagnoses occurred across Canada in 2017 with 80,800 people passing away. Some 6,700 new cases were diagnosed in Manitoba. An estimated 510 men and 360 women were diagnosed with colorectal cancer in Manitoba last year.
Mike, who is now event co-chair with his brother Colin, said his sister, cousin and children take part. The walk and run event is a family affair and a personal fight to find a cure. He said all funds raised from the walk and run are directed to the CancerCare Manitoba Foundation. To this date, nearly $359,995.65 has been raised since the event began, Mike said.
"We get to meet the people and see where the money is going," he said.
Mike said he learned from the foundation that without their fundraising work, vital research for Lynch Syndrome testing in Manitoba was unlikely to have occurred.
"It's great to see how it's helping people," he said.
This is the second year the Empress Street branch has sponsored the walk and run. Mike said the team was proud to put together a silent auction package. Much like last year, employees were encouraged to volunteer their time, he said.
"Community involvement is a big thing for Western and I take that to heart," Mike said, noting that he provides team members the chance to give back in all branch sponsored events.
All efforts to raise awareness about the event or bring in further donated funds are vital, Mike said.
"(It's) amazing that Western can be involved in something like this," he said.