Insurance for electrical contractors in Ontario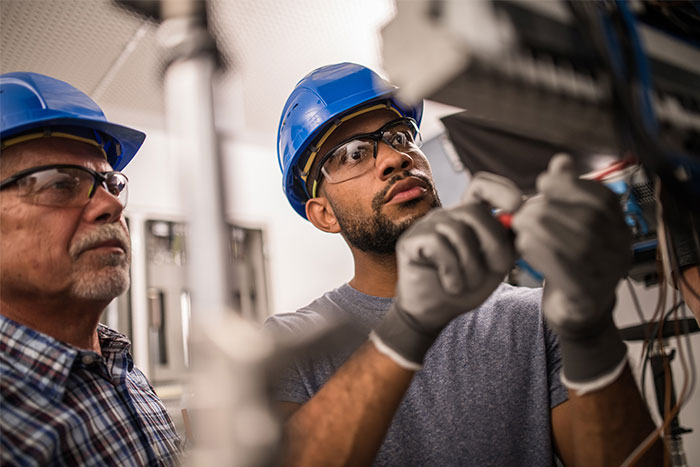 Electrical contractors in Ontario need to have the right insurance to manage the risks of operating a business that involves working with electricity. Whether you do electrical contractor work in new homes, old homes or for agricultural, commercial, or industrial operations, many types of accidents can happen.
What types of insurance do electrical contractors need in Ontario?
Electricians in Ontario are required to have an electrician insurance policy when applying for their business license. This is because working with electricity has inherent risks while you are working and after the work is completed. Electrician insurance protects both you and your customers.
What does electrical contractors insurance cover?
Electrical contractors insurance is a policy that includes different types of coverage needed by electrical contractors. Having enough coverage is crucial for protecting your business, vehicles, tools, equipment, staff and property.
Commercial General liability
Commercial general liability is one of the most important coverages for almost any business and is essential for electrical contractors. It protects you from the costs of work-related liability claims. If there is an accident that causes bodily injury to a third party or damages their property, your commercial general liability will help cover the expenses associated with it.
General liability insurance helps protect your business if you are found legally liable for an accident and helps pay for legal costs if someone files a claim against you even if you are not found to be liable. Many things can go wrong and general liability insurance covers legal expenses, medical bills, and the costs of repairing damaged property. It also covers completed projects, damage to rented premises and issues with your advertising.
Contractors equipment insurance
This type of insurance covers the tools you use to do your job. Contractors equipment insurance protects your tools from theft, damage, breakdowns, and other losses. If your equipment is damaged or lost, your policy will pay for the replacement cost of new equipment. Most policies will also cover tools and equipment you rent.
Commercial property insurance
If you have a shop or office as part of your electrical contractor business you should have commercial property insurance to protect your business property from fire, theft and other hazards. Replacing your personal property and repairing your shop if it is damaged can be extremely expensive so it is important to have enough coverage.
Commercial auto insurance
Electrical contractors need commercial auto insurance for their work vehicles. Your personal car insurance policy will not cover your vehicle when you use it for work and you need to make sure you have commercial auto insurance. This type of coverage is for accidents that occur while using your car for work and you should have up to $2,000,000 in liability coverage. If a third party is injured or their property is damaged by your work vehicle your commercial auto insurance will help cover the costs. You can also add coverage to your policy for non-owned vehicles that your use for work.
Errors and omissions insurance
Errors and omissions coverage protects your business from lawsuits related to errors, omissions, negligence, and other mistakes made on the job. It covers accidents that commercial general liability insurance does not cover.
Employers liability
If you have employees, you need employers liability insurance to protect you if an accident is caused by your staff.
Workers compensation
If you employ others and your employees are injured or get sick at work, workers compensation will protect you and your staff from financial losses. It covers short- and long-term injuries that happen during work hours.