Insurance for mobile mechanics in Ontario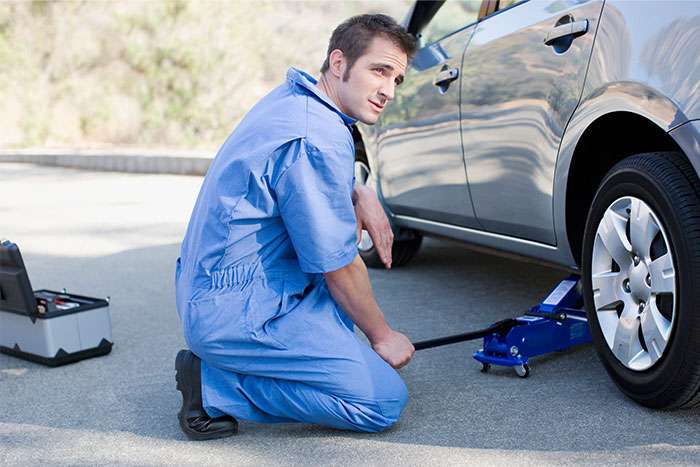 As a mobile mechanic in Ontario, you offer a specialized and convenient service to your customers. When a vehicle breaks down it is much easier for a mobile mechanic to repair it at its current location than for the owner to arrange for towing to the shop. Providing this type of service has specific risks that need to be covered by your mobile mechanic's insurance policy.
What type of insurance do mobile mechanics need in Ontario?
Even if your mechanic business is mobile, you still need insurance that covers the risks that come with operating a repair shop and there are several important types of coverage.
Business property insurance
Business property insurance covers the property you use for your business. Even if you do most of your work in customers' driveways, you still have tools and equipment and probably a shop or garage that needs to be protected. If your business property is not covered by your insurance policy, an event like a fire, burst pipes, theft, or vandalism will cause setbacks because of lost time and repair costs. If you work from a garage, the structure itself is your business property. Your tools and any items that can be removed from the building are your personal property. Make sure you have enough coverage for both.
General liability insurance
General liability insurance protects you from work-related accidents that cause damage or injury to others. Mobile mechanics need this type of insurance because these types of risks come with running a business. General liability insurance is important for most businesses to have because it protects you from the costs associated with bodily injury and property damage claims. It covers costs like repairing damaged property, medical bills, and legal expenses.
Garage liability insurance
Another type of liability insurance that mobile mechanics need is garage liability insurance. It covers situations that general liability insurance does not.
Garage liability insurance covers accidents in which you cause damage or injury while using a customer's car. It protects you from liability for customers' vehicles if they do not have their own liability coverage and it protects you from the liabilities of operating a garage, which has many risks. A common scenario is causing damage to a customer's vehicle while taking it for a test drive.
Garage-keepers insurance
This type of insurance covers damage to vehicles you are working on that you do not own. Garage liability insurance does not cover this so you need to have adequate garage-keepers coverage. If you are working on a customer's vehicle and an accident occurs that causes physical damage to the car, your garage-keepers insurance will cover it.
Commercial auto insurance
The above types of insurance cover many different risks but do not include coverage for your own vehicle. Your work vehicle needs to be covered by a commercial auto insurance policy in case there is a work-related accident that results in bodily injury or property damage to someone else. These types of accidents are not covered by your personal auto insurance policy.
How much coverage do mobile mechanics in Ontario need?
Make sure your mobile mechanic business has enough coverage for worst-case scenarios.
Purchase more liability coverage than you think you could need
Adding extra liability insurance to your policies is not expensive and can be well worth it in the long run. Liability claims can be prohibitively expensive to deal with if you do not have enough coverage and can even bankrupt your business. Having $1,000,000 in liability coverage is not twice as expensive as purchasing $500,000 in coverage.
Your general liability, garage liability, and garage-keepers liability insurance should all be for amounts that are higher than you think you could use. Make sure your garage-keepers insurance includes enough coverage for all the vehicles that could be in your care at the same time. If you only work on one car at a time you will need less coverage than if you have employees and multiple vehicles in your care at once.
The minimum requirement for liability coverage for auto insurance in Canada is only $200,000, which is very low when you consider how expensive liability lawsuits can get. It is advisable to have $2,000,000 in liability coverage for your commercial auto insurance.
Have enough business property insurance
Make sure to have enough business property insurance to cover replacing all of your business property if there is a total loss. If you own your home and work out of your garage, you need to make sure the structure of the garage itself is insured for replacement cost (the amount it would cost to rebuild your garage if it burned down, for example). Ensure your policy includes enough coverage for all of your personal property to be replaced. Even if you work mostly at your customer's homes, business property at your home will not be covered by your home insurance.
Ask your Western Financial Group insurance broker
Because each business is different, it is helpful to ask your Western Financial Group insurance broker to help you figure out how much coverage you need for your mobile mechanic business in Ontario. They can help find you the right coverage so that you have enough insurance without paying for products you do not need. If you employ others, your broker can also help with any additional coverage you need for employees.